Cynd
i
's bittersweet and rootsy festive kiss-off to Sony,
Merry Christmas ... Have A Nice Life
baffled a
Q Magazine
reviewer who at least noted Lauper was in '
fine if not spectacular vocal form
'. Indeed, the singer was in a pensive mood on the cabin-fire opener
Home On Christmas Day
('
something about this season, hmmm, makes me feel a little queer
' she shrugs). I would say the
Q
critic missed the point - this album is about as far removed from the She Bop mooncalf some people will always want her to be as is possible.



Early Christmas Morning
was a Japanese bonus track on her 1996/7 album Sisters of Avalon. For me, too much reliance is on the children's choir, but Cyndi's voice flickers in glorious celebration, with solidarity and her trademark vulnerability on the sky-reaching chorus. The production assembles a fairly bouyant clatter, but dare I say it still sounds cheap! She almost yodels into a
Goonies 'R' Good Enough
towards the end.
Rockin' Around The Christmas Tree
simply has to be deliberately cheap sounding - I have to tell myself that Cyndi is perversely getting off on these whispy synths lathering up as she runs wayward with soprano ad libs, or else find myself wondering just how big a 'fuck you' to her label this really was in places, but more on this below.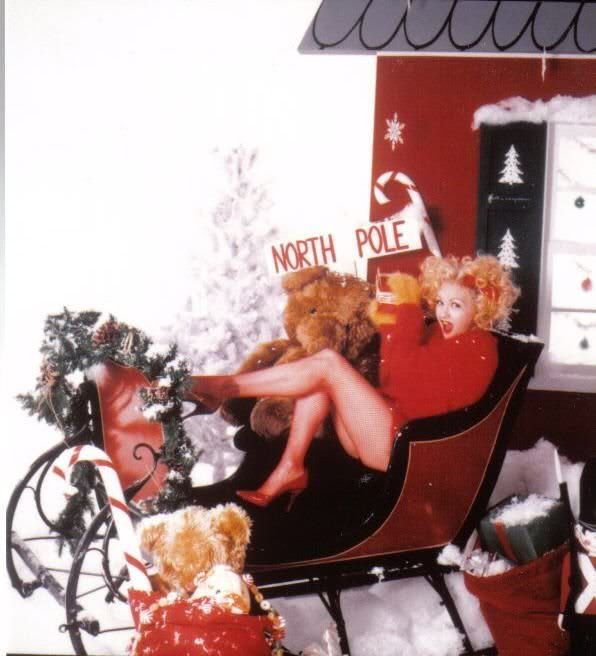 The prickly heat of Cyndi's skirt-hoisting/thigh-chaffing party jam
Christmas Conga
is much better: budget-priced production simmers with wonton invitation for embarassment, but only Cyndi can make this genuinely infectious. She puts her Miami pal Gloria Estefan to shame - the Cuban's own Christmas effort was soggy tampon in-the-bath ballads. And here it comes - Cyndi denies the insult of a woefully inept music label with her deadpan and unequivocally gestured words:
And by the way - have a nice life!
Believe it or not, this next track could be where the Basement Jaxx collaboration
Rockin' Chair
was consumated - just wait for Cyndi's mexican-wave 'ooooh' moments.
Minne & Santa
also reminds me of
He's So Unusual
, with slow organs burning from the same candle as
Say A Prayer
and - crikes! -
Lyfe
. At least Cyndi can put some orginality into this project - so many festive albums are too straight for my liking. I love Cyndi's breathless mock-horror 2 and half minutes in guessing what-only-knows Minne and Santa are getting up to after they ran away together.
Feels Like Christmas
is lifted from her 1993 Hat Full of Stars album. Aesthetically, it is very similar to
Early Christmas Morning
, with an acoustic bluesy cutlery of instruments and a carpet-yanking organ. Cyndi's verses are cute as can be, with '
tit for tat
' bridges breathing gorgeous melody, showing just how underrated her 90s albums really are. I love how its guitar middle-eight could be face-lifted from just about any Cher song from her Love Hurts album.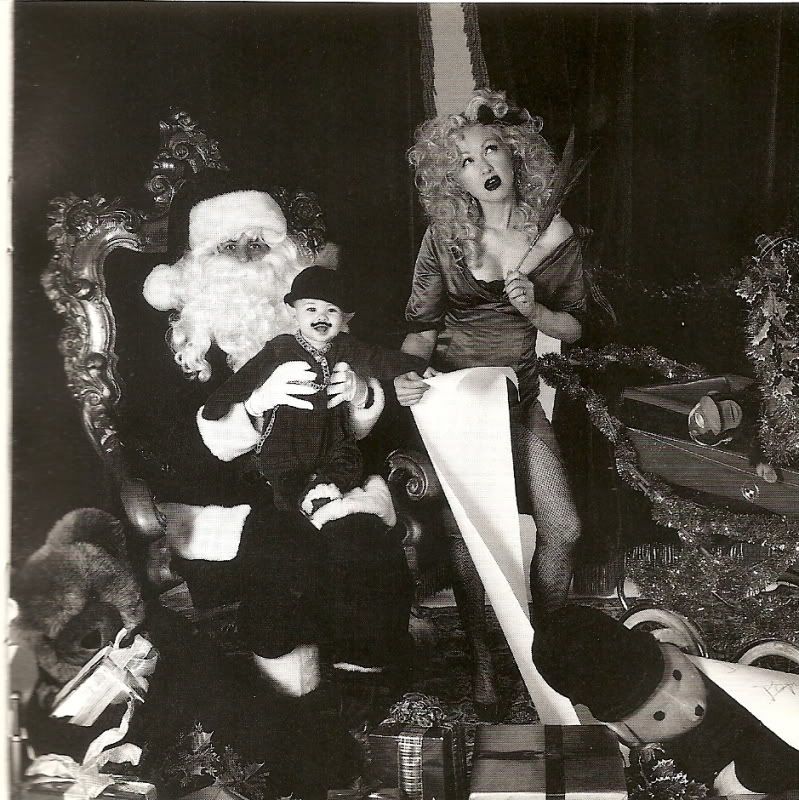 Three Ships
sounds like The Corrs busking outside Borders book store in Dublin, or the soundtrack to a Eurovision V.T. Moris dance troups will love it.
The self-written
New Year's Baby (First Lullaby)
is actually one of my favourites. The fragile sadness of Cyndi singing '
and I'll take this old man by the hand to begin again
' is tinged with all the fatal pathos of prosperity, and it is very poignant if the frail words can dillute into specific meaning for anyone like myself.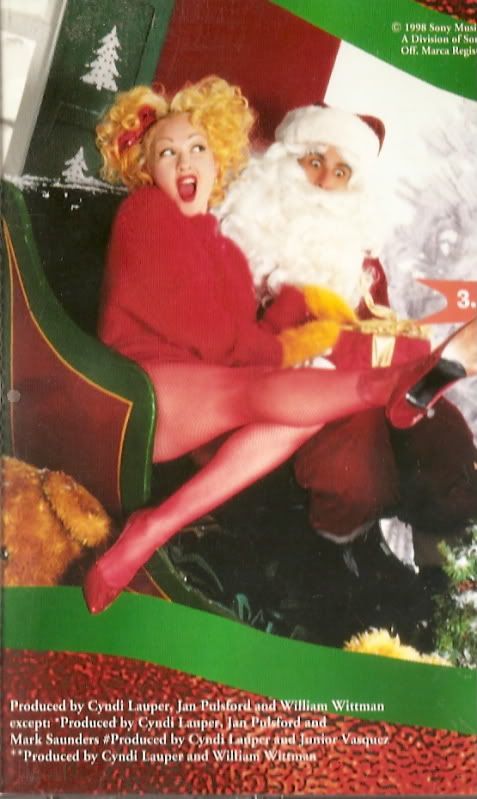 The soft-focus of Cyndi's snowflake vocals and
December Child
catch a gorgeous draft with sparse keyboards and frostbite triangles.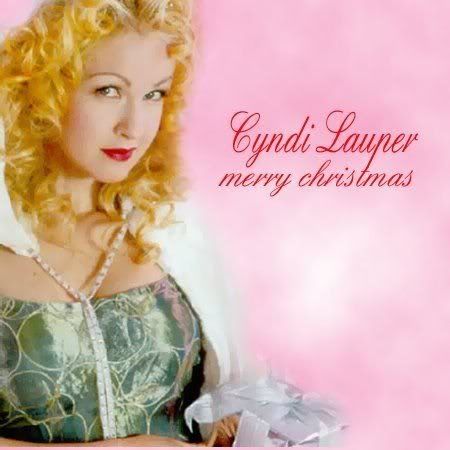 When I saw Cyndi live she did a traditional Scots song acapella, which
In The Bleak Midwinter
ought to have prepared me for. If you are a fan of Cyndi's statuesque voice, this is gorgeous. Low key, but beautiful.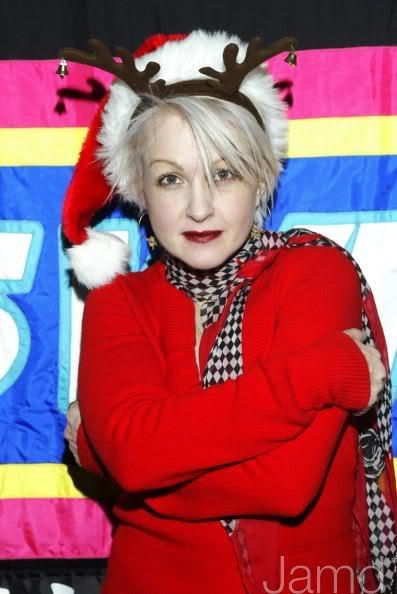 There wasn't much need to include
Silent Night
, but I like the slightly OTT bandpipes over-playing Cyndi's farewell. Her spooked virgin nun, snow-soaked vocals are as vivid as a reflection onto a fragmented mirror, probably attempting some sort of voodoo curse onto Tommy Motola no doubt. 2:35 is gorgeous, massaging comforting humming sounds and - sadly - another choir but even they can't piss me off with less than a minute left.
For a big 'fuck you' statement, she sings tastefully throughout this album, even when she is embarassing herself. It is both heartwarming and slightly eerie - the passionate dissociation of the mix is entirely appropriate where the principals of singer and music label have all but disappeared from each other's work. Charming craft (
Home On Christmas Day
) juxtoposed - deliberately? - with offensive banality (
Silent Night
), it's still my second favourite non-Spector Christmas album.