Billie Ray Martin's
largely undiscovered 1994 collaboration with the
Grid
, an E.P titled
4 Ambient Tales,
remains her most romantic and impressionistic to date. Unfairly, Martin is largely remembered as the singer of the circumstantially faceless trance love song
Your Loving Arms
(a genuine international hit single), or from
Electribe 101
who had even less success yet left a critical legacy not to be overlooked. The fact that her back catalogue is a curious condition of scattered collaborations (often unreleased) and a mere 2 albums, is a major betrayal of a singer her fans consider to be the most expressive soul singer since
Dusty Springfield
('
the

Dietrich

of techno
' is another odd yet apt description).
Often overspilling in a knowingly perverse thrill over the melodrama she sings of (hear her scream '
there is a body on the floor that looks like me
' on the ballad
Deadline For My Memories
and you will worry that she would have needed a strait-jacket afterwards), Billie sings truthfully nevertheless and always avoids the cliches of her genre. Here, this is the sound of someone closing their curtains and locking their doors in order to be alone, and Billie gives her most restrained and profoundly revealing vocals ever.
4 Ambient Tales
is a 4am remedy for the broken hearted, the loney and world-weary, and epitomises her insoucient style of electronic soul.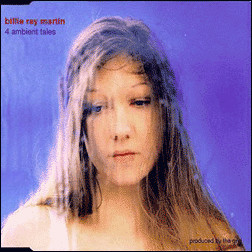 The lead off track
Hearts
drifts one as far away from their problems as they can get: imagine
Brian Eno
meets
Cyndi Lauper's
True Colours
and you are maybe halfway there. Naive and abstractly poignant, it's a dissarming experience with those familiar with the singer who once sang of keeping her lover's soiled panties in a biscuit tin. When
Billie
sighs '

so calm down

' she then sings so gorgeously it is almost paralyzing. She does it again on
Planet of The Blue
; '
don't doubt me
' is as passionate as it is understated. The feeling is that open wounds are being healed here: the hauntingly sung '
Oh let's get carried away boy
' has to be the most adorable lyric of her entire disparate songbook, tinged with country regret; whilst '

forget all the everyday scars, tonight we may get a star for you

' is secluded and affectionate.
Siouxsie Sioux
once sang of a '
bridge of sighs
', well this is it.
Billie sings with tact, consideration and on
I Spent Hours Again (Wishing You Well)
, even with poker face diplomacy, there is a cathartic sense of closure being achieved.
Hours
calms the storm, what must be rage is distilled into singing '
I spent hours again wishing you well
' almost as if it is a put down, and that she is far too glamorous to lose her composure over a sordid affair. The passivity of the vocal is cleansed completely by the rippling ambience and echo of Tammy Wynette in the form of those arching country guitars shimmering into the moonlight.
House of Love
is the most recognisably Billie, sounding as if it could have been an Electribe 101 recording. It is definately the black sheep of the release, probably due to its theme of stalking and gets back into Martin's trademark delight in dysfunction.
Washed up souls are in for a treat - these achingly gorgeous songs ressurect the listener into optimism. Listen to
4 Ambient Tales
and the sound will connect you to a life support machine; emotions ripple pensively and you will be deep in peaceful thought long enough to flush those pills down the toilet and face another day. The luminous atmosphere created by these descreet love songs is an experience to behold.
You can buy the CD
here
.