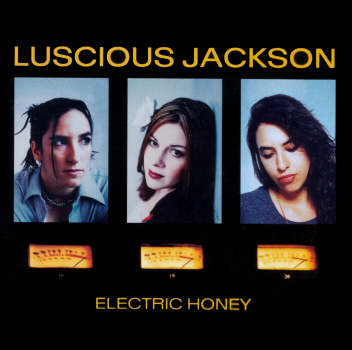 Something gorgeous and luminating is in order, and the crisp and redemptive '
Refrigerator Box
' remix of
Ladyfingers
by
Luscious Jackson
restores my faith in a band I always believe never truly fulfilled their unique promise of flair and slightly stuck up attitude: the pure-sounding guitar riff (like a cross between
Mmm Bop
and
Halleluja
) just seems to thaw out all the badness. Helming from New York and signed to the
Beastie Boys
label
Grand Royale
, they were about as cool as
Ricki Lake
yet afforded themselves the luxury of an occaisional amazing song, with singer Jill Cunnif's sly vocal always adding depth despite her lack of range. Their impressive scattering of sporadic highlights included their single breakthrough hit
Naked Eye
,
Here
which featured in the 1995
Clueless
movie, the city-dwelling ennui of
City Song
and
Under Your Skin
which sounds like music the title character from
Daria
might have listened to with her fictional best friend Jane. However, my introduction to them was seeing an advert for their 1999 album
Electric Hone
y
in the pages of an
NME
magazine I took with me on holiday to
Majorca
when I was 15 and going out of my mind with loneliness, bless. So whilst I was giving my parents hell with dramatic outbursts and inwardly not having a clue what to do with myself, I saw their image and was intrigued by the cutesy name and album title alike, which was helpfully reviewed positively in the same issue. It is strange when one is in an emotional panic - 'teenage angst' - and suddenly an image can just penetrate you with something stunning and intriguing; I knew I had to get this album.
Above

: The original line-up in a still promoting the album
Fever In Fever Out
in 1996 (L-R); Kate Schellenbach, Vivian Trimble, Gabby Glaser, Jill Cunniff.
The mix-tape I brought with me on holiday included:
Hole
(
She Walks On Me
,
Doll Parts
,
Celebrity Skin
,
Malibu
,
Miss World
(live),
Garbage
(
Vow
,
I think I'm Paranoid
),
Marilyn Manson
(
The Dope Show
),
Depeche Mode
(
Enjoy The Silence
),
No Doubt
(
Just A Girl
),
Placebo
(
Allergic To Thoughts of Mother Earth
),
Smashing Pumpkins
(
1979
),
Kate Bush
(
Running Up That Hill
),
Texas
(
The Saint
),
Tricky
(
She Makes Me Wanna Die
),
Bran Van 3000
(
Drinking In L.A
) and
Steps
(
Love's Got A Hold On My Heart
- rushedly taped from the
Jo Whiley
show on Radio 1). I remember the last minute panic before leaving about getting all the songs I wanted taped and waiting for the Steps track to get played on the radio as it was not yet released; and I have never bought a single Steps CD I should add. Music was my crutch at this age, and felt like my secret revenge on people, with or without it I was starting to feel autistic or someting.
Upon my return, my purchase of the album did not disappoint and welcomed me back to enjoying pop music properly since my
Spice Girls
and
Madonna
obsessions had dimmed whilst I tended to my teenage anguish. The week before my 13th birthday, my 2 best friends stopped speaking to me just like that: at first it was only 2, but by the next day my other two friends followed suit and let's just say after a whole day of sitting in class on my own and filling up break time with long walks, I needed something a bit more sophisticated than 'zig a zig a' to help me through this quite bizarre predicament, to compensate for the sheer embarassment. More and more, music had became my intense, personal and private coping strategy - I still do it and actually get very agitated unless I can hear whatever new sound I happen to be craving. My long-winded story is basically that with Luscious Jackson, it was a return to pop, to embrace a genre of music that I felt I had to banish in order to perhaps give me something of a defence having pretty much dropped off the social radar (it wouldn't actually be until I was 17 that I met my best friend - it does feel weird to discuss a period which to me just feels like a black hole that sucks me in if I dwell on it too long). Nevertheless, it was a great summer as I could not stop buying 2-3 new albums every week, which my Mother would pay for perhaps out of pity or guilt (I remember giving her massive lists incase any were not in stock), and whilst Luscious Jackson were not the most influencial of my purchases (1999 was the year I got into the life-changing
Deee-Lite
), I have fond memories for a this group of slightly average-looking New York women who knew a half decent tune when they seen one, and clearly thought a lot about themselves which I suppose is exactly what sucked me right in there and then. I still remember fixating my eyes on their image, wondering what the music sounded like beyond what had been descirbed - I knew enough.
On the actual album: the original version of
Ladyfingers
is a bristling summer gem with the typical LJ lyric '
she is standing with her suitcase ready to run incase you are wondering why she is so quick to come and go
', the basement thump of
Nervous Breakthrough
is pumped up and squares up to dry hump the
Spice Girls
'
Who Do You Think You Are
without flinching (it is also similar to
She Wants You
by
Billie Piper
), the dreamy and haunting
Christine
featuring country cadaver
Emmylou Harris
, the tarty
Space Diva
spills the beans,
Summer Daze
captures the comedy of unbrearable emergency toilet dashing, the aloof rampage of
Sexy Hypnotist
satiates the thirst for another
Under Your Skin
but as sung by
Shampoo
,
Friends
is maudlin and could have been perfectly poignant for an episode of the sitcom, the cosmic love ballad
Beloved
, and the tipsy
Fantastic Fabulous
featuring
Debbie Harry
who is too embarassed to contribute anything beyond a voicemale. Put it this way, the line on the latter '
making up all the friends for the friends you need
' was akwardly bittersweet but the mock-impressed scorn really singed the thread for me. Much like the me ten years ago, they were always suspicious but made their mark when it counted; this remix is aching and fragile, revealing a little courage behind the facade.
Ladyfingers

(single edit):
Ladyfingers - Refrigerator Box Remix
'I got heart'.