Since learning how to count, compiling a list of 2009's best ever singles was a simple thing. My tens of readers have been counting on me, and here is the

Diva Incarnate

end of (last) year count-up.
Gala just about composes her 1-on-1 orgasm down to a disco beat; gasping and shrieking on a brutally heartfealt dancefloor love song, this utterly adorable bipolar romance epic is unassuming and yet veers from cooing lesbian pride ('sooner or later you'll understand, sooner than later you'll hold my hand / speaking those words I've been longing to hear, a destiny stronger than your fear' - think Ellen and Porcia holding hands in the queue at Starbucks) to hysterical masochism that left me devastated as it was simply that perfect. With endearing lyrics, which emphasise her liberal gender politics to sweetly reveal her guts to fully qualify what it takes to experience true love, the visionary singer's struggle to contain herself is positively heroic as she wails with an incredulous and grappling grasp of passionate euphoria that is tinged with touching melancholy of the effort it has been to get there. I feel the same just getting out of bed in the morning, but we all have to start somewhere: breakfast, porn, coffee and then just like Gala I am howling like a bitch on heat - whatever it takes. Those stoic Banshees' Hong Kong Garden guitars (1:54) are inspired: and the final 46 seconds almost make me want to be a lesbian with amazing cheekbones.

Not technically a single, but an intimate video was shot using her Nokia and therefore, without a major label backing her, is good enough for me.
02. Kelly Rowland - When Love Takes Over
'Head under water, now I can breathe' fondly remembers former manager Mathew Knowles' preferred method for anal whilst enjoying a UK #1 and potentially the best dance song of the decade. She ain't no Lolleatta, but the one that looks like a tranny from Destiny's Child just released the best song she will ever record (plus it was playing all the time when I was in Germany). I'm not just writing this for namesake, but this really was a Kelly Llorenna tribute single and she's not even dead yet despite appearances.
03. Yeah Yeah Yeahs - Zero
Karen O's extinguishing groans are ecstatic as is the brilliant escalating disco trigger.
04. Whitney Houston – Million Dollar Bill
Tarted up by the picky Freemasons, this was exactly the invigorating dancefloor outing I wanted from her. Hard to think of her as an actual functioning pop force as evident on the X-Factor, she's more of a spectacle, but a very fine one at that.
05. Dragonette – Pick Up The Phone
The slightly Arcade Fire sounding Autumnul album version or wintry-disco of the trembling-electro Richard X version – Dragonette's finest song yet.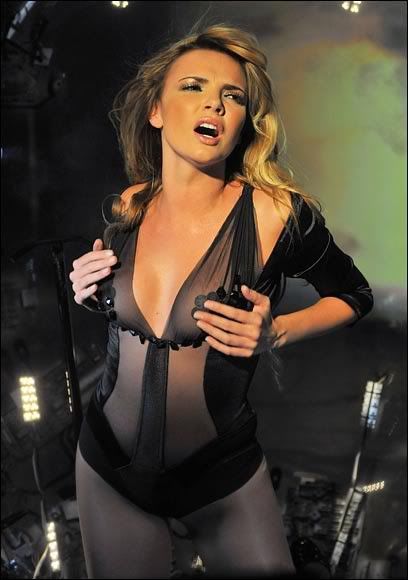 06. Girls Aloud – Untouchable
Nadine's elegant chorus and heart-bleeding middle eight are stark, aching and completely superior - what a shame we need to hear fat Kimba, born-again racist Cheryl and primrose slag Sarah on it too. I can honestly say this would be at least my 5th favourite song of 2009 were it simply sung by classy Nadine or with chav-glamour Nicola on the enchantingly plaintive and desolate verses.
07. Ladyhawke - Magic
Enjoy The Silence 2009 - kinda makes Gaga look like a try-hard tranny in comparison, as do cameras.
08. Shakira - She Wolf
With its corkscrew ploughing bass, lascivious disco sleaze and feeble 'awoooo', Shakira desperately needs to ditch the hip hop as this is her way forward.
09. Yeah Yeah Yeahs – Heads Will Roll
Siouxsie meets Nina Hagen meets Grace Jones meets Depeche Mode.
10. The Temper Trap – Sweet Disposition
Something about its jangly sensations and sky-pleading vocal that just hits a raw nerve with me.
11. The Saturdays - Ego
Forever Is Over was a frigidly frozen turd and it still managed to hit #2 on the UK charts - I've taken such a U-turn for these girls with this still-climbing song though. Frankie is well above these roped in cosmetics counter girls, but they can all wail competently enough unlike some British girlbands. The not-quite-pulling-off-scorned lyrics aren't quite the right fit, but the bittersweet chorus is too huge to pay much attention.
12. Groove Armada – I Won't Kneel
Imagine Stevie Nicks on the best grimacing Hi-NRG trip she would never be able to remember. The glittery neon video is yet another glistening dance showcase that makes me wish Dannii Minogue had a clue.
13. Therese - Neon Lights
With vocals sharper than sniffing tip-ex, I could not get enough of the chaffing bass courtesy of Rex The Dog. The sense of lubricated adrenaline and being pursued is addictively violating with particular fun from the messy, squelching yet glossy production toying with the singer's transparant damsel in distress 'oh daddy don't you worry' lip-biting club cubicle predicament - even Dannii would be mortified.
14. Letoya - She Ain't Got Shit On Me
When beyond-shit Beyonce gets too much for me, I slam this jam on, which blows a fuse with Luckett's outrage at being compared to 'what I think is trash ... bringing flees around here'. The UK would have lapped this up like Beyonce's love-blender devouring Jay-Z's cola bottle. Extra points for the Jason Nevins remix, which is a treadmill lifesaver.
15. Mylene Farmer – C'est dans l'air
Bizarrely ripping off Cyndi's High & Mighty only with a tremendous galloping chorus – those lucky French.
16. Sugababes - About A Girl (Keisha version)
The ska-rave intro scorched a similar heat as Gala's Come Into My Life, and Keisha's unnoficial swansong boasts her finest gravy-gargling vocal ever. Let's not mention Ammelle's 'apple pie' vocals, which sound like a dry turd being squeezed out of an unwilling vagina. Yes, this blog gets classier with every post.
17. Saint Etienne - Method of Modern Love
Cracknell's candyfloss vocals get spun into the band's best melodic momentum since the Eric Kupper remix of Stars Above Us. Glistening and brisk.

18. Linda Sundblad - To All My Girls
The explosive and spiky chorus is just what her last album needed, except it went and flopped. File in amongst Robyn, Louise and Margaret Berger.
19. Aqua – Back To The 80s
Despite sounding like a novelty song (really, from Aqua?), this high-voltage blast from the past anthem showcased how good I'd have wanted a solo or group comeback song to be and then some.
20. Britney - 3
Miles better than anything Justin has delivered since cry-wanking rivers, her gorgeous put-down to her black bodyguards 'are you in?' sent chills down the spines of black cock addicts all around the world and then some.
21. Stacey Q - Trip
This actually sounds like Richard X creaming his load over Corona and Livin' Joy at the same time, only cougar Stacey's unmistakably fervent and sultry vocals are keenly out to 'start a crusade' and poor Annie's fanny-fart vocals just seem limp and a bit irrelevant by absent-minded and obviously-biased comparison.
22. Lady Gaga - Bad Romance
The theatrical execution is more demented, striking and disciplined than her contemporaries combined- she officially is what Madonna was in 1986, and I can't even imagine what her Madonna circa 1990 peak shall be like (if we get there of course, her nose is a cocaine catastrophe just waiting to happen). The bulked-up chorus is more of an avalanche that takes no prisoners, I just love the industrial noise and bile-wrenching disgust at nothing in particular.
23. Lady Gaga - Poker Face
Her nose might be a cocaine dealer's wet dream, but this overrated song was still peaking when I wrote 2008's best of list back in March this year: eventually clogging the charts at the top spot in both America and the UK. It seems destined to become her signature hit even if its heftier follow-up Bad Romance left it sounding like a demo.
24. Agnes - Release Me
Trapped wind can be such a bitch, especially for old Wig-On-A-Turd who blasts a cracker with this epic pseudo Lara Fabien, Kelly Llorenna, Mary Kiani, Tina Cousins, Hex Hector remix bonanza. Just don't ask what's happening next, but Agnes left her skidmarks all over the joint with this one - a genuine classic and gave me nice feelings when I heard it in Germany during the climax of summer.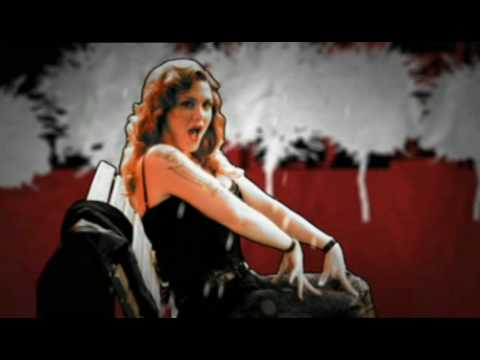 25. Vanessa Amorosi - This Is Who I Am
With a chorus just as big and butch as her shoulders, the Australian beefcake would make a great PE teacher yelling this chorus at her pupils as she battles her adolescant demons. She gets away with the 15 year old diary entry lyrics by the skin of her muffin-top (some might say victoria sponge) not least due to her mature Joan Osborne vocal duty that's got more guts than Sharon Osbourne in a bikini.
26. Eva Simmons - Silly Boy
This quickly wore off faster than Kelly Lorenna's fake tan on a much-needed cleansing wipe, but it's an angsty onslaught of slushy Atrari shoot 'em up synths and spat out vocals. Rated 'better than Rated-R' pop perfection. The shin kicking vocals deserved to make this a hit, but her forthcoming duet with Chris Brown at least promises something with a bit more tasteful venom.
27. Annie - Songs Remind Me of You
With anorexic vocals so thin you could peel them off like a sticker, her emaciated delivery is oddly sharp and incisive - the whisper siren's finest ever single apart from Heartbeat, and by far the 4th best song off the album. What does it remind me of though?

Ahh yes, an air vent.
28. Lily Allen - The Fear
More impressive on initial rather than repeated listens - her lyrics I just grow out of, but the chorus is like a cold gust of wind, it's just beautiful and I forget what a monster she used to come across as.
29. Madonna - Celebration
Dana International won't be losing any sleep, but I happen to love the sun-kissed oceanic late 90s wave-crashing trance. Just drop the wicked-cougar-witch vocals and channel your inner Rescue Me singer next time, plus she could do with some of Dana's hormone pills. I swear Jo Whiley was filling in for her in '09.
30. Solange - Would've Been The One
She really needs to cover the Dolzier-Lamont pop of Billie Ray Martin's Where Fools Rush In, this is the most unassuming pop song since, well, Sandcastle Disco.
31. Pet Shop Boys – Did You See Me Coming
New Order-sounding, dreamy, wistfully optimistic and much much better than the oh-so-sarcastic Love Etc.
32. Beyonce – Halo
Beyonce sings to prove a point, she doesn't sing because she has soul - she sings because she wants that fucking Oscar dammit. And she has never sounded so cynically convincing than on this - I absolutely love it, I love how desperately sad the lyrics are (well I hear what I want to hear, but there are bits that nip my nipples into submission like I never expected from her).
33. Aqua - My Mamma Said
I love the unexpected morbid turn from these guys - Lene's solo career seems to have benefited them after all. It could do without Rene on it though, as ever.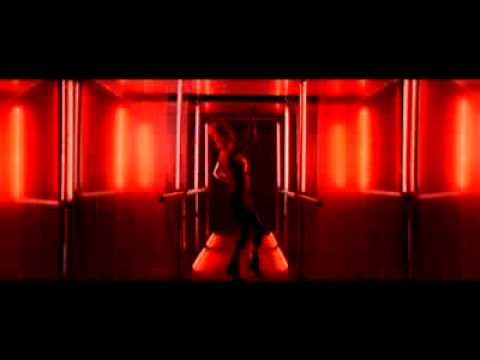 34. September – Until I Die
With a face like a bleached anus, this Swedish beauty released my favourite song of hers and it was pulled back with needless caution. Whenever these Scandinavian pop princesses score a hit, meddling record companies fritter it all away with delays and fun-sapping remixes. Such a shame as this could be any amazing dance song from 1993-2008 at least.
35. Ciara - Work
This should have been a Mel B song, but I still remember almost losing my balance on the treadmill when I first saw Ciara's helicopter weave-spinning.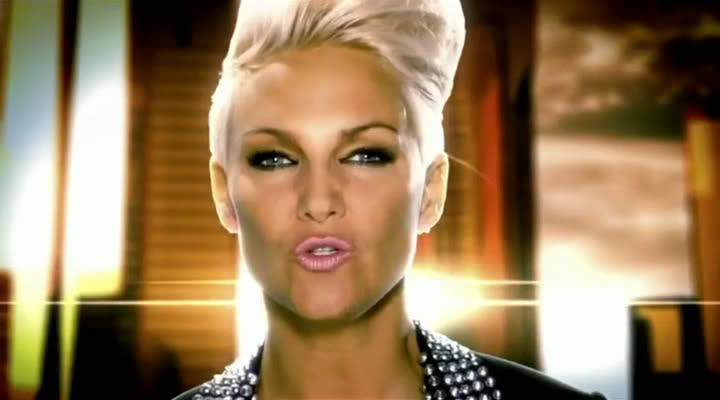 36. Kate Ryan - Babacar
She's a crossdresser between Kelly Llorenna on a hen night and Sarah Whatmore turning to prostitution, but less dignified, and her latest flop was well worth the humiliation for die-hard europop fans and tragic gays with no sense of self alike.
37. Dragonette - Fixin The Thrill
Like Marcella Detroit on E, Garbage on valium, or Cyndi on a believable comeback crusade.
38. Elize - I Can Be A Bitch
The trashiest song since No Way No Way, 'shouldn't have met me on vodka night' is the most brainlessly hilarious lyric of 2009 hands-face-and-pants-all-down. Love stings, literally, and Elizee makes what could be merely trashy, frightening and disturbing into something even more tacky and amazing.
39. Girls Aloud - I'm Not The Anal Kind
Stale, stoic, self=pitying, brittle and masochistic - exactly my cup of tea then, but it's too polite to really be an absolute classic despite Sarah singing on her best behaviour. And choking-on-poo vocals Cheryl can just fuck off singing on top of all Nadine's lines - this would probably be in my top 5 if it were a Nadine solo song, or a duet with Nicola. They all look like frozen whore-corpses in the video - Cheryl's gaunt racist face looks more dead than Michael Jackson circa 2007.
40. Square featuring Siobhan Donaghy – Styfling
'I find it so crippling…' – you just can't compare her to what became of the Suga's.
41. Paula Abdul - I'm Just Hear For The Meds
I always suspected Kylie's Put The Needle On It rip-off could benefit from a pill-happy reality TV judge, and boy was I right: Paula really thought things through, performing on American Idol with as much consentration as her medication would allow.
42. Beyonce - Sweet Dreams
Bless her for trying, Bejesus Christ, this skidmark turd-rate Diana Ross is still at it, this time with a When Doves Cry rip-off or should I say weave-off - she has nothing, I repeat NOTHING, that is truly her own except those thighs, which she probably stole from a dinosaur museum anyway. The ultimate evil bitch of rnb picked up on the 'turn the lights on' mantra littered all through Michelle's superior debut-pop album and no one batted an eyelid. She's just lucky this was good or else I'd need to jump off this fence at some point.
43. Bananarama - Love Comes
Finally, a cougar anthem about spunk - a Wash That Man Right Out of My Hair for 2009.
44. Agnes - I Need You Now
The Cahill remix echo's the gorgeous piano from Divine Inspiration's The Way, but Agnes' ballad could only be improved so far despite her best efforts to have sex with a native American in the video. We've all been there.
45. Britney - If U Seek Amy
The largely kiddish but decent Circus album used the same template as her self-titled third, which meant consistently perky pop songs. Contrived, catchy or just a bit boring, this wasn't the hit it might have been had it been chosen as single #2 or even just released with a half-decent video. Britney for the sake of Britney.
46. Cyndi Lauper - Girls Set Your Heart
Cyndi seals her finest album in over a decade with a timely reminder of her little known 80s gem. This classless remix generated the finest close-ups the singer has experienced since True Colours - the frustration of being a Cyndi fan...
47. Sally Shapiro - Love In July
Dreamy pop with Sally's milk-leaking vocals thinly stirring waves: the ghostly 'I promise to stay around' is limper than Jay-Z watching Beyonce get undressed but actually boasts a hook more lingering than Cheryl Cole hitting a black woman refusing to buy her album.
48. Gala - Tough Love
She might have divorced herself from the misconception that she was only a dance artist, but this love-in-ruins ruefully turgid guitar mess actually grew on me like a fungus of hic-upping spasms.
49. Siobhan Fahey - It's A Trip
The ex-Nana's turtle-head vocals never sounded more atrociously sardonic and being completely free from any chance of having a top 40 hit, they showcase the track's ferociously deadpan energy of which she could never convey with her old band.
50. Ysa Ferrer – Last Zoom
YsaI've not properly gave her a chance, but this electronic single was convincingly dark and sly – imgagine if S.O.A.P were a MILF.
51. Lady GaGa - Eh Eh (Nothing Else I Can Say)
Dripping with synths like Jenna Jamieson walking back to her dressing room, this was Gaga's golden moment of 2009 when a little gem popped out of her bulge and into my iPod. With the looks of a tennis player, I can't get enough of the video where she bears an uncanny resemblance to Eddie Falco.

52. La Toya - Home
She'll cure AIDS one day and this brings her one step closer with a rousing chorus tinged with dollar signs that will make any sufferer with their faces decaying off feel that much better that someone...
SOMEWHERE...
SOMEHOW...
actually cares enough about her own career to make a difference.
53. Whitney - I Didn't Know My Own Strength
I think she just needs more fibre, less spliff. She'll give herself piles if she's not careful.
54. Britney - Radar
Her blow-up doll 'persona' of the Holly Vallance tribute album Blackout is still her best argument for pop perfection, and this run-of-the-mill melody is a bit like being raped - whether you enjoy it or not is besides the point, it's the experience that counts.
56. Alesha Dixon - Breathe Slow (Cahill Remix)
With-not-without remix, this became one of 2009's biggest surprises - I don't like this peanut-head-with-a-weave-stuck-on-a-giraffe-neck wannabe Sabrina as much as the next indifferent homosexual music fan, and yet this is lush, with scintilating dance production droplets. The perfect peeing-on-a-pregancy-test (or wall outside a club) anthem.
57. Whitney Houston - I Look To You
It's brave of Whitney to huff and puff through a ballad whilst singing 'when melodies are gone'.
58. Tina Cousins - Sex On Fire
Presumably she just really needs to trim her bush, the silly cougar obviously wants the whole fire brigade on her - 'untangle me boys, whooooooooaaaah, my sex is on fire!'
59. Bloc Party
60. Lady Gaga - LoveGame
With the Sugababes recording About A Girl, in retrospect listening to this song it becomes apparant that Gaga had to enhance her own sound as this is now the RedOne blueprint. The video hatched some great images, but Gaga doesn't have the unwavering video command of Madonna, Annie Lennox, vintage Deee-Lite's Lady Kier or Siouxsie Sioux quite just yet here (just look at how akwardly exected her subway lifts are).
61. Black Eyed Peas - I Gotta Feeling
62. Taio Cruz - Break Your Vagina
You know what they say about black guys: what doesn't kill you, stretches you instead - the physical CD came with a free ice-pack, crutches or wheelchair depending on the damage Taio did whilst 'breaking your heart' *wink wink*. Cheryl Cole was all set to record this until she found out Taio wasn't her body guard.
63. Lady Gaga - Paparazzi
Gwen Stefani ballad with an over-hyped-but-got-the-right-idea video starring my favourite True Blood cast member.
64. Miley Cyrus - Party in the USA
I don't know what is wrong with me, but I love this - it kind of celebrates taking the piss out of her.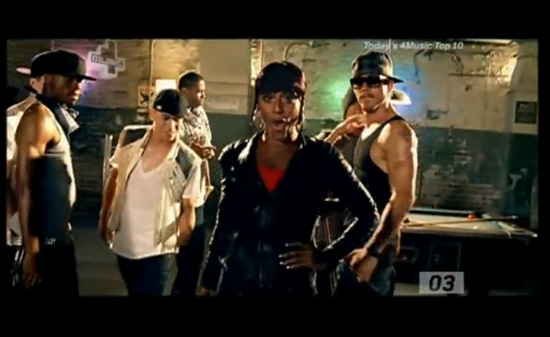 65. Alexandra Burke - Bad Boys
A likeable Gloria Estefan tribute that I hope one day the Cuban refuggee diva shall return to - Burke is just a nose job and a dance beat away from being the new Lonnie Gordon. The album is solid but has few surprises and difficult to take in one sitting.

66. Royksopp feat. Robyn - Robot
I could do without Robyn on this, it's a stunning song that does not require someone famous to front it - it would have in fact benefit with a faceless singer to give it more personality. Oh wait..
67. Mariah Carey - Obsessed
Like pus oozing from Britney's blackheads from her Blackout era, this is basically double penetration of Migrate.
68. La Roux - Bulletproof
Completely ripping off Gina G's Next To You - next she'll turn out to be ginger and look like a man and not be able to sing live...
69. Alcazar - Stay The Night
Stomping europop steroids - the crashing drums and girl-group backing vocal ammunition are hi-impact and highly glamorous. One of pop's most reliable forces.
70. Pet Shop Boys - Love Etc
So amazing they had a cheap perfume named after it with notes of sandalwood, vanilla, jasmin and lilly of the valley.
71. Jenny Wilson - The Wooden Chair
I didn't see this one coming, think PJ Harvey meets Mary J. Satisfyingly strange.

72. Christina Milian - Us Against the World
Sombre re-evaluating lyrics - the American Keisha gets to grips with not recording Umbrella with satisfying self-pity ('no one could ever take that away'). Beautiful.
73. Velvet - Come Into The Night
Purging forward with her second thatbaywatchdancesong sounding single: the starlit chorus is just sensational.
74. Enrique Iglesias ft. Ciara - Taking Back My Love
For someone so gorgeous I never quite understand why he is so assexual and wet-sounding, but his pop outings are always a cut above and Ciara does her best to sound interested.
75. Brooke Hogan - Ruff Me Up
Gurrl, just cover yourself in lube and strut into your local gym if that's what you're after.
76. Danny - All On You
On the face if you're offering.
77. Velvet - Chemistry
Over the wrong side of 'looking older than 40', Velvet's never going to be a big name - this could be anyone, it's just lucky that the elements (which drown out all interest in who is singing it) are pretty addictive, and she lacks the image to transcend the identified drawbacks.
78. Kaci - Crazy Possessive
Think Britney's Womanizer meets Britney's Womanizer and ending up sounding like a Saturday's Up rip-off instead.
79. The Bravery - Slow Poison
I hadn't paid any notice of these guys since buying their debut album until She Wolf – whilst not as epic as Unconditional, I still love the despairing vocals and tormented disposition.
80. Alcazar – From Brazil With Love
More of a formulation of attitude and glamour-gestures via innuendo and gasping vocals, Alcazar are reliably amazing at what they do.
81. Amber – I Don't Believe In Hate
More like a Kate Bush Aerial track than her exuberant Europop fluff from the 90s, remixes reliably resuscitate the baffled.
82. Ashley Tisdale – Crank It Up
Hilary Duff watch your back, gurrl.

83. A1 - Take You Home
Yes and I'll have 3 of you please, or 4 with the lights off if you really insist, that is to say, rape me.

84. Rihanna – Russian Roulette
When she finally gets her humiliation out of her system and releases worthy material to follow-up Umbrella, then I'm sure I'll be less impatient with this cloying ballad that sounds like a surly Lauryn Hill from Sister Act 2 changing the lyrics to a Whitney song in oder to appear cool. It's just not convincing enough beyond mere concept.

85. Jordin Sparks - SOS (Let The Music Play)
The anti-abortion jesus freak might look like a rugby player after a sex change, but struck bronze with this trashy tribute to Shannon.
86. Soft Toy Emergency – Critical
They flopped so hard even wikipedia tried to erase their existence. A shallow Portobello-esque stomper that was championed by Madonna's BFF Jo Whiley.
87. Leona Lewis - Happy
Camel-toe face (well she looks like a waxed vagina to me) was back hijacking Beyonce's Halo sound with another top 50 smash - she won't clean up any awards with this one, but her nostrils will need to clean up a lot more shit unless she gets more daring material (even the Jason Nevins remix was limper than Jay-Z helping Beyonce squeeze into a size 22 leotard).
88. Annie Lennox – Shining Light
I reluctantly include this, simply because it is cheap kareoke music - and yet it is still the best melody she has sung solo on since Something So Right.
89. Cheryl Cole - Fight For This Love
She's no racist, okay? She only beat up 'that fucking black bitch' because she was drunk, okay? This is the sound of a million underground Geordies being brainwashed to vote for Jaw and buy me album or just shoplift it if you can, alreeeeet? I like the synths and won't apologise, but her constipated vocals are about as sexy as having your head flushed in a toilet, most likely by Cheryl if you happen to be: a) black, and b) a toilet attendant. Don't say she didn't warn you - 'singing's outta the question'.
90. Booty Luv - Say It
UK's two-woman answer to Velvet.

91. Alphabeat - The Spell
Rather disappointing not to come out with something as high-kicking as Fascination, this is more of a wet fart in comparison. Wear a sanitary towel and dance the night away.

92. siobhan - wifey
This eyeball-prickingly dire trance track always makes me scoff, but I still love Siob's introductory Deborah Cox cover and enjoy her durability regardless of AATW's chav stench being all over this jam.
93. Blazin' Squad – Let's Start Again
We can all start again, just book a room in a Travelodge and pack plenty of poppers.
94. Frankmusik – Better Off As Two
His songs could go further with a vadge on the mic, but for his jawline alone I can't begrudge this being nothing short of quite good actually.
95. Martin Solveig feat. Dragonette - Boys & Girls
96. Freemasons ft. Sophie Ellis-Bextor - Heartbreak Make Me a Dancer
With crowsfeet more engraved than the forrows on the palm of my hand, her effortless glamour continued to baffle disdainful UK music buyers, scraping a minor hit whilst scraping laughter lines onto her face with a garden rake to 'get the I-found-out-about-moisturiser-a-bit-too-late-but-God-do-I-love-the-make-up London look' as her Rimmel ad campaigns has her say.
97. Tiesto – Escape Me
I'd definitely fuck this guy for tracks – the sound I hope Jessica Sutta shall strive for if I don't get their first.