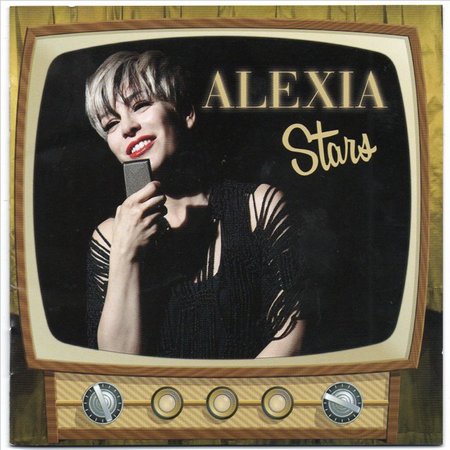 Italian former icon of dance
Alexia
is at it again with a new album called
Stars
, and the big surprise is that it's not a complete bummer for those still yelping '
uh la la la
' at the mere whiff of a good time. The MOR arrangements now have a shinier gloss, and she even commissions a long-overdue remix from old collab-whores Almighty for the title track.
The singular title track
Star
has officially became her first properly listenable single in years. Her vocals are sleek and sharp, singing in both English and Italian. Bookending the 8-track 'album', the closing Almighty edit won't have you burning your nostrils off with poppers, but the reunion is a classy trance-trodden treatment.
After spicing up her reggae-ruin
Uh La La La
into a
Spice Up Your Life
style anthem, acknowledging the dancefloor again after all these years really suits her. The song itself is a melancholic feel-good flourish of shimmering guitars that Chicane might want to borrow, streaming piano spirals and a vocal that never touches the ground.
Don't be scared: the guitar-driven
Non Tentarmi
is vivacious and engaging;
the absolutely lovely guitar-driven

L'amore in superficie
is a shimmery showcase for her tongue-rolling passions, whatever they are; the guitar-driven
I Dreamed A Dream
is thankfully not a Subo tribue, and instead is a fragile-versed/Roxette-chorused rousing original number not a million miles away from Alanis's
Head Over Feet
once it finds its own; the guitar-driven strum-fest
It's Love
is more guitar-cycled and effortlessly sexy with a rainbow-sprouting chorus identifying a secret emotion I could not possibly reveal; and the guitar-driven
Perfect Day
is laidback, finding both groove and melody, but the
Night Version
remix gives into languid Rn'B that is as good or bad as some of Madonna's night-time stories.
Shooting out from seemingly nowhere,
Alexia
is a diva revitalised on a long-overdue flush of decent melodies on
Stars
, not least on the soaring title track, and even gives in to her rabid 90s fans' dancefloor cravings with a trance-tastic and nostalgic Almighty remix. A very enjoyable mini album full of intimate arrangements, lubricated guitars where it counts and a voice getting the material it deserves.
Rating
:
8/10