Connecting to a pulse of rippling disco, Stacey Q casually asserts her gameplan with tame warnings of 'double illusions' and promises we're not to worry.

The original Annie (but actually in a good way), Ms. Q is anything but pretentious.

Color Me Cinnamon is spliced with various tempos and illuminating temperatures of dance, trance, jazz, rock and pop.
First single Trip is a throbbing dancefloor invasion. Her lucid 'crusade' gets going straight away with a recurring flare up of rave and dizzying trance. Her ice-cool delivery drips like a tap and you won't even notice there's not a proper chorus.
Catching fire with rougher surfaces, 'we burn' is the fang-injecting chorus on Below The Surface – if her bush is on fire then I'd probably suggest getting a Brazilian. No pain no gain, etc. It's the album's most emphatic chorus, singing with tooth-pic precision, and it catches friction like striking a match. She even sneaks in a neat Britney Spears reference, whether intended or not – it's a nod to pop perfection and she's on a winner here to get away with it.
Safer bet, the second single Pandora's Box has softer edges to its creamy pop treacle. A fervent bassline is given added voltage with the spikier chorus.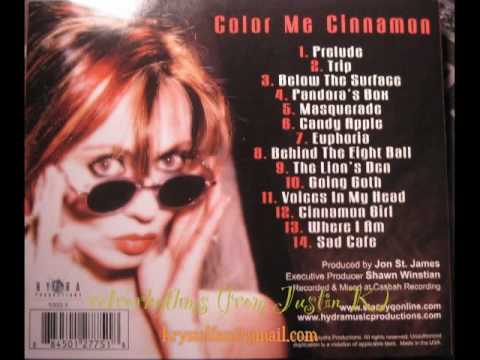 The distracted electronica sounds of Masquerade are melancholic and the slightly bothered chorus is built around a foundation of gleaming piano keys streaming through the verses. Sighing backing vocals contemplate wordless sensations and cloudy disco rhythms sound the alarm for heartfelt pleas from Q.
Synths are fried to a citrus crisp on Candy Apple, with her hardened vocal edges giving added bite. The track announces itself in euphoric fluster, and Stacey's glossy vocal application adds a new layer with every listen.
The misty ambience of the sleepy Euphoria can't promote itself beyond the unconvincing desire to 'take me higher', but at least she's 'giving it a shot'.
Below: Stacey poses with her new gay husband with no visible embarassment at all.

By far my favourite, the swanky Behind The Eight Ball's jangly guitars slide right in and it's a surprise that the line isn't lifted directly from Sinead O'Connor's Mandinka. The cutesy chorus is as neck-snapping as it is name-dropping.
Arctic ska sounds fizz and hiss on Lion's Den, but sadly the chorus is held in captivity by a lack of ideas, which is a bit of a let down given how very The Knife meets S.O.A.P it initially promises. Forgiving the flat chorus, the production is sharp, jagged and worthy of being held in the same breath of Robyn's Who's That Girl, but regular Diva Incarnate readers might note that coming from me that might not actually seem like a compliment.
Getting it so wrong, Going Goth is like Kylie trying to rip off Dannii's Get Into You. Foul and as appealing as herpes. Despite wishing she was singing 'I'm not unknown', Voices In My Head is a pulsating dancefloor throb with surface-skimming trance worthy of Dana International's epic trance album HaHalom HaEfshari (yes, you know the one). Cinammon Girl is a tranquil spritz of simmering trance particles, elegant beats and Stacey's silky vapours. The low-key verses are as sultry as they can be, and sound just like the bridge on Shania Twain's When. Where I Am goes all Chic a la Notorious and You Are Beautiful. All fizz and no jizz. That is not to say this is not worth a casual agreement to go back to its cheap thrills, but there are better options on offer here. The Saint Etienne sulk of Sad Café is not without custom, 'she dreams in metaphors' is gorgeously pompous and its mild flutter of trance almost turns it into a Madonna Celebration style Ibiza anthem.
Color Me Cinnamon is as flavoursome as pop is ever going to get, these songs don't beg you to like them and this freedom of sound gives the album a uniquely rewarding advantage. As on Behind The Eightball, Trip, Below The Surface and Candy Apple, Stacey Q's incisive vocals inject with clean pursuit, with the production bite to match her inimitable sparkle.
Rating: