Unleashing her biggest developments since puberty,
Flower's Broken
was
Sabrina
's 1999 flop comeback album. If you're expecting a poppers o'clock dance album, this album might sound like some of its air has been leaked out as Sabrina favours different dance flavours for her mouth-wattering brand of dance-pop. Songs like
I Love You
are scintilating, mysterious and jubilent, but the overall impression is confident and unmistakably creative.
Aiming for the dancefloor,
I Love You
is the lusty first single that launched the ill-faited project via a surge of high profile promotional slots such as the 90s late night cult British TV show
Eurotrash
(she also memorably
performed her signiture hit

Boys Boys Boys

, live I might add, on another episode alongside the Smurfs) . Tears fall down my cheeks like suicide victims off a bridge everytime I hear Sabrina pledge her love on the spledindly life-enriching chorus. Like a lost bewitching Bananarama song - I cannot recommend it's brilliance enough. Delivered with a creeping sense of anxiety, the singer's vocals are untouchably dreamlike and divalicious. Enough to finish anyone off.
Sounding dreamy and suitably flowery,
Shallala
is a near acoustic pop stream of conciousness with strummy guitars. Sabrina's off-kilter songwriting is gorgeously evident - this is not the straight-forward dance-pop I was expecting. Repeated listens are rewared indefinately, with spoken word erotica that would make Mylene Farmer faint with shock and embarassment.
Cleaner guitar sounds, synths and a upright chorus,
Jimmy
is Madonna's

Cherish

meets Jeniffer Paige's
Crush
meets a decent enough S.O.A.P album track. Hit potential for at least a few Eastern European markets. Another disco delivery,
Diamond In The Sand
is foreboding and up for unexpected body contact. Going for a slightly rockier vein to stream her disco prescription into, vocals get loud.
Scaring the shit out of Alanis Morissette,

You Oughta Know

is the definitive version the world had to wait 4 years to hear as the Italian singer unequivocally yells "

are you thinking of me when you fuck her?

". Forget Gaga flaunting stupid fashion statements,

Flower's Broken

is a lilting melodic prize in amongst a fuzzy eclipse of jangly guitar distortions, rippling electro and hard/fast surfaces.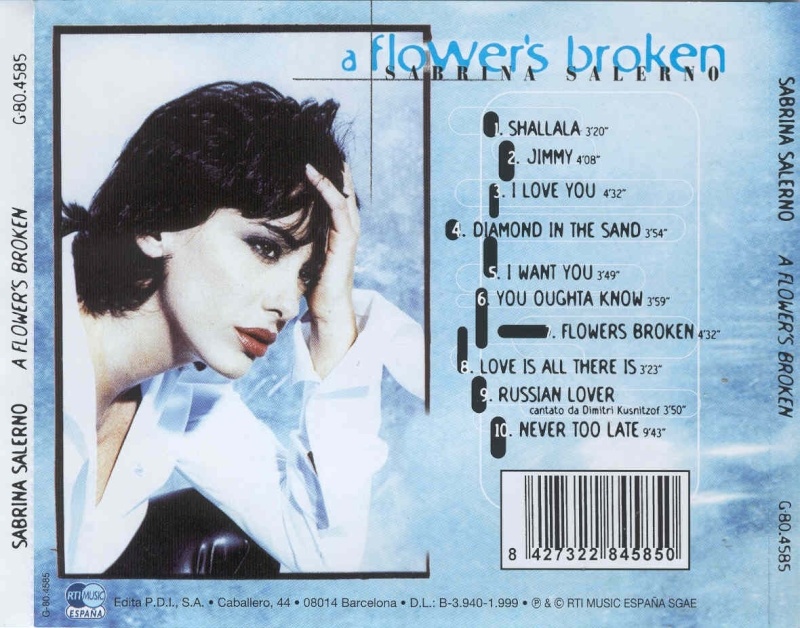 Downplaying her dance,
Love Is All There Is
is powered by hip hop grooves and jazzy new jack soul to jack off to if those anonymous male vocals are anything to go by (I wish). The midtempo funk sounds decent and Sabrina accentuates the slinky atmosphere by groaning insistently. Whilst not instantly memorable, the slinky unnasuming vibes creep into your head if given the chance.
We've all wanted one for ourselves at some point (at least when it comes to watching their gymnasts), and Sabrina's own
Russian Lover
doesn't disappoint my expectations for a loud, busy and confusing dance track. Nailed it. An intoxicating, homoerotic chorus (it's chanted by a bunch of gays Sabrina picked up at her local sauna in Moscow) leads to an interesting climax.
Which brings us to the album's own happy ending,
Never Too Late
. Sad, slouchy and slowburning, we have a ballad on our hands as Sabrina clearly has a lot to get off her chest (you knew that line was coming at some point). Not as difficult to like as it might sound on paper, Sabrina gives good slow ones too. Luxuriant melancholia - even trash goddesses have feelings too.
The orgasm-fueled dance-pop brilliance of

I Love You

steals the show, but A Flower's Broken effortlessly grows in stature with repeated listening and 12 years later my fondness for it has only increased. One of the brighter dance-pop albums to emerge from the late 90s, Sabrina is the whole package, here, on an album that refuses to sag.
Rating
:
9.5/10