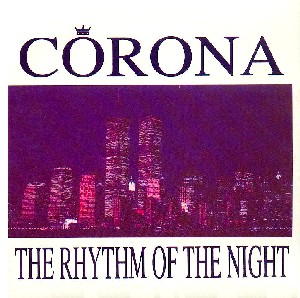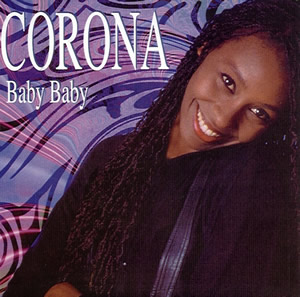 Corona
's bottomless blackhole ammunition of buoyant Hi-NRG bliss is one big happyslap of fabulousness laid on thick, fast and furious. My addiction to their rampant dancefloor classics remains as urgent today as it was when I was an 11 year old putting a black towel on my head and pretending I was charismatic Brazilian front woman
Olga Souza
. Even though
Sandy Chambers
was the gifted faceless lead vocalist in the background, Olga's giraffe-length legs and beaming plastic-set smile made her a titanic icon of radiant sexual glory:
Baby Baby
and
Try Me Out
are ferociously forward, utter Eurotrash and were top ten hits all over Euro-land.
Debut single
Rhythm of The Night
, with Olga flossing as lead singer from the offset, was actually sung by
Giovana Bersola
and remains their biggest hit, spending 13 consecutive weeks at the summit of Italy's singles charts.
Baby Baby
, originally recorded by
Joy & Joyce
, was a faster delivery, foregoing the sublime melancholia of
Rhythm
for a thumping rave crusade for ready-made romance.
Try Me Out
was the 3rd and final single to 'do the business', with
I Don't Wanna Be A Star
merely hovering in the top 30 of most European markets. The album remains a classic of the Hi-NRG genre: the anguish of
I Gotta Keep Dancing
is a gorgeous rush suppressing heartache with dance, the gutsy
When I Give My Love
is worthy of being a lost
Capella
single,
Don't Go Breaking My Heart
is camp enough to make
RuPaul
blush,
I Want Your Love
is almost sweet enough to be edible
,
Do You Want Me
scratches the same rash as
Baby Baby,
In The Name of Love
is probably the weakest vocal track here,
Baby I Need Your Love
glimmers with persuasive vocals and rippling synths, whilst
Get Up & Boogie
is just daft and naffly appealing.
Above

:

Rhythm of The Night (Italy #1, UK #2, US#11) was remixed by alleged

Dannii

collab-pimps the

Rapino Bros

on the song's defining mix. The song helped secure

Corona

a supporting slot on a

Diana Ross

tour no less.
It was not until 1998, through producer Francesco Bontempi's own label, that Corona released their follow-up
Walking On Music
. Despite not causing as much carnage as their previous efforts, three singles were released (in turns amazing, amazing and very good), all flopping despite some really cheap music videos and scarce promotion. The title track continues the same giddy economy as their debut single and accelerates out of the starting blocks, with Sandy's sunshine-oozing vocals matching Olga's shit-gritting grin. It lights a fuse heading straight towards their love for disco and over the speed limit dance music: the usurping and typsy
The Power of Love
is a slinky dance-pop gem if ever there was one; the anxious prep-talking bridge '

I wanna be the best, you gotta put me to the test

' is reminscent of

Baby Baby

's unforgettable '

corr, chills down my spine

' before collapsing into its celebratory chorus
.
Below

: the glorious trashiness of

Olga

's bold rock-squating, streetwalking in the desert, moisturised thighs and sophisticated wigs were sadly not enough to make

The Power of Love

a hit in 1997.
Final single
Magic Touch
is a straight-forward, thumping and slightly scary house track - its verses sung with foreboding caution, and its chorus is too hell-bent for cock to notice. Best of all, they pay tribute to
PWL
on the soothing and glitzy album track
I Belong To You (80s)
, which melts under the sun and effortlessly manages to sound like
Donna Summer
's
This Time I Know It's For Real
as well as
Kylie
's equally jittery
Got To Be Certain
: thirst-quenching piano keys, exploding drum-loops and drizzling synths raining down showcase Corona at their very finest, like a 1 track PWL greatest hits CD
in the space of 4 minutes. Its heart-skipping, tireless chorus '
I'm falling in love with you, it's not make-believe anymore
' is as care free as it gets, and stimulation erupts into infinity. Sadly the rest of the album pursued a steady-paced headache of Rn'B styles, which although competent, do not do the songs any favours, which all sound clumsy in comparison to the 4 purging dance tracks.
Below

:

Olga

couldn't help but laugh as her backing track skipped.
Olga continues to whore the Corona project, having released two more albums (now singing the songs herself having perfected a decent impersonation of Sandy and Giovana), and consistently promises new material in the face of reality - she is a classic dance diva then!
I Belong To You (80s)