I actually had
Gabriella Cilmi
down as more of a UK size 12, but
Ten
it is then - I am not particularly bothered. On her breathtaking sophomore spike, Gabs wants it all and gets plenty.
On
On A Mission
I am not exactly going to argue with her - a low-key affair airbrishing together a grinding bass trigger, jittery Pointer Sisters dance twitches and epic drums on the slalom ride chorus. Just like the hanus rap on
Black Jacks
by Girls Aloud, Gabriella is tricked into one of Miranda Cooper's delluded soggy tampon chanting crusades whether it was Mirando Cooper behind it or not I still blame the ex Gina G backing dancer for anything wrong in pop (starting and ending with Cheryl Cole of course).
Like a Freemasons remix with less '
poof
', disco fodder
Hearts Don't Lie
shifts into She Wolf Shakira. It's embarassing when young people try and act their age and still sound like their granny - her soul-mamma thing is like a 5 year old walking in their Mother's heals. Lacking a chorus, it's effects galore - shifting gears from her lower register to the falsetto that suggests her balls are being grabbed by Lolleatta Holloway. The dribbling bass is pretty engrossing, as is the singers hurried '
hubba bubba
' discretion for sex predictions - I probably like this better than the first description might suggest.
She ignites
What If You Knew
as her own
Sex Is On Fire
, with an unassuming chorus swirling glorious synth currents. Gabs laments the embarassing attention from an unwanted admirer into a sublime unselfish utopia. I hate to go there, but it usurps the best feelings of the Sugababes
About You Now
(that would be the Keisha bits then).
Speed ballad
Love Me Cos You Want To
is just as euphoric - a fainting Moroder bassline, crestfallen shimmery guitar twinkles and wounded vocals bruise into the melting grooves. '
The rest is up to you
' couldn't be more apt, scoring her second perfect song in a row. Imagine the Autumnal 80s pop of Fleetwood Mac circa Tusk soldered onto Depeche Mode penning a Disney tune. Whomever peddles production duties deserves credit for the sumptuous escapism.
Carrying both torch and tune,
Defender
is a stunning stargazing ballad, sung as if enchanted by a gorgeous ennui. It's a touching lyric: '
remember I am your defender
'. Quaking stronger with every chorus, the middle 8 absorbs all one's grief as if she were a true pop missionary as she vows on the first single - who knew she was meaning every word?
I am blown away by
Robots
- the ability for seemingly every female electro-pop princess going to sing devastatingly beautiful ballads about machines is hypnotic. There is a midtempo pulse, ebs and flowing and a syngeing vocal job. Dribbling synths flow into the '
we can
' chorus - '
we see the world through electric windows
'. World-weary, startled and singing with stoic intent, this song will soften the blows even for Rihanna. Her vocal is like air conditioning for the ears and soul - a minature disco opera.
Giving me chills,
Superhot
isn't about to fail - the Antipodean also-was now firmly a contender, she finds herself the 7th single-worthy song out of 7. Overlapping tolerable vocal techniques with borrowing from Moroder and Kylie, the impressive shooting-star synth flashes dazzle to make it her own
Light Years
, floating into the horizon of either Minogue's vast triangular nostrils.
Chiming bells sell the lumpish
Boys
as permission for her boy to sleep with
his
boys - whether she knows he is bissexual is besides the point, that's what you get for dating emo's Gabby (her succintly modern relationship predicament would scare the shit out of Avril Lavigne who still sings as if her emo boy is actually hetro). Aided immeasurably with teetering production squidges, it doesn't chaff nor grate. The steady hooks all shine and it's just a glow to hear this woman sing full stop.
Gabs grabs herself a verse stolen from any other PCD single on
Invinsible Girl
, the most contrived song here. The production tricks continue to stick so it's hardly a nuissance that it sounds like Rachel Stevens'
I Said Never Again (But Here We Are)
. A bit too much proof that she can sing as well.
The sturdy heart-collapse
Glue
is a welcome deviation with proper stuck-up velvety ballad strings. It's great to hear the singer stretch her vocal chords a bit, even if the beat amusingly sounds as if one is being spat at (perhaps that's her inner Glaswegian coming through). Grief-stricken and utterly proud, her stupendously croaky voice simulates passion with a velvety flair.
The gospel clamp
Let Me Know
makes me screw my face up and pray for botox - a duet between Annie Lennox and Beverly Knight about womankind would be less icky and bullimia-inducing. Gabba's torment to sound like Amy Whinehouse could only be suppressed for so long - I hate this one like an ugly biological child. As if things couldn't get any worse, an invisible gang of black people start clapping (one can only assume anyway as I get the distinct whiff on a church choir). Just eugh, if this one becomes a single expect a fiesty rapper employed for shits n' giggles.
Thank heavens ('
boy you ain't no
')
Superman
has a clean-cut guitar structure - rinsing away all the techno gimics, Gabs has a gorgeous tone to her voice when she stays clear of her lolita gurning. She's craving '
hands all over me
' - but this ain't no
Put The Needle On It
, it's more suited to her debut which she has bravely turned her back on up until now. A crisp and sultry closer.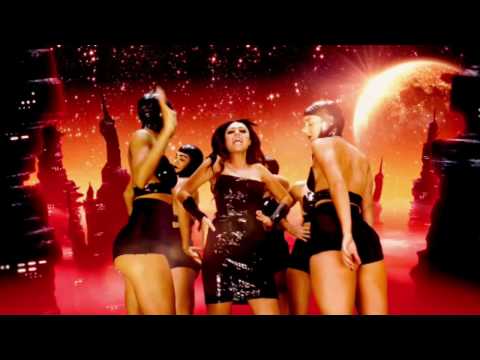 Finally,
Sweet About Me
is shoved on at the end for a last resort selling-point. It's the
Twenty Ten
dance remix (I'd prefer the orginal and this played one after the other as one track - but nevermind).
Well fuck me with a kitchen knife and clean it afterwards for seconds, I never expected this would be decent nevermind being an absolute bulletproof classic. Gabby denies low standards ourtight, unhinging herself from the MOR pastiche expectations and propells herself into the stratosphere of Kylie's
Light Years
and Rachel's
I Will Be There
, but rips her lungs out with undiminished traces of actual singing talent and a uniform of robust sensation and electro-pop take-offs.