Colleen Fitzpatrick's first claim for solo stardum under the alias of
Vitamin C
was slightly thirsty for tunes, yet her playfully in control persona achieved a #29 peaking album in America.
The electric voltage of
Smile
is the beginning of her mutton-as-lamb role playing - sure it's not embarassing but this is the foundation of what a pop song should sound like and slightly unusual for a pushing-30 year old to be at this point. The fluttery verses are a dream, the chorus spiked with traces of
Hella Good
and she even ropes in Lady Saw before Gweny-Gwen pinched her for No Doubt's
Underneathe It All
. Her sexpot act is bubbling under, delivering a surprising genre hybrid pop song that was one of 1999's very best if not biggest. It did blush it's way into the Billboard Hot 100 at number 18.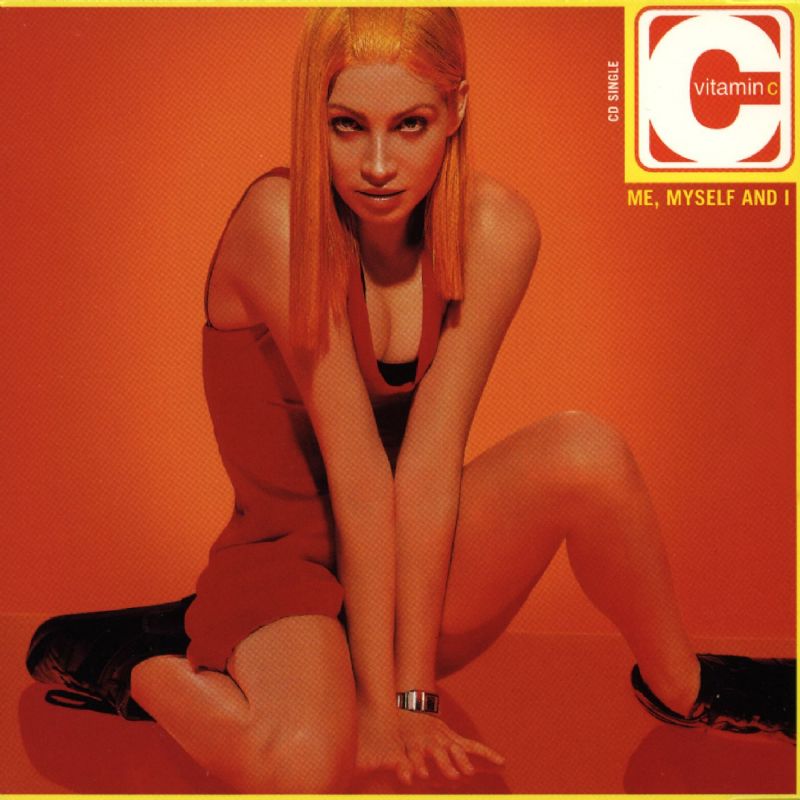 The solidly teenage
Me Myself & I
was lucky enough to feature in the marketing of hit 90s TV series Sex & The City (unlike Amber, at last she didn't desperately chase after for more). Unlike the Britney's, VC had the advantage of her sophistication. She just wants you to know she is risky too, and at least you might actually believe her.
The Max Martin meets Alanis part spoken word part stadium crusade
Turn Me On
dwarfs both these hits. Relegated to album track it is the secret winner of the lot. The cold chills and frustrated atmosphere of the verses are thrown off the cliff into the nosedive chorus. Unlike Jagged Little Pill era Alanis, this singer conveys anxiety as opposed to enacting rage. The lyrics could not be any simpler yet you still hang on to every word.
The sombre/explosive formula is repeated with soaring flair on her charismatic cover of Crowded House's
I Got You
, the 2nd avoided single opportunity: house beats bounce with air-tight rapidity and the middle-8 is a skyward instrumental. The wilting country-tinged
Unhappy Anniversary
is the then-29 year old more naked than her crop top videos on MTV. Her doubts even sound real.
Elsewhere songs such as the grungey sulk of
Not That Kind of Girl
and the standard pop parade pounce of
Do What You Want To Do
(complete with ultra sleek disco strings) are clinched by Colleen's not-so-innocent belief in her innocent mission.
Sex sells and sex happens.
About Last Night
is without conquest or surrender. In the words of Hear'Say and Cleopatra, loving is easy and VC is so clued up that she isn't even worried about being pregnant.
Tough cookie
Fear of Flying
oozes an appealing sense of sleaze. Passing wind,
Boys & Girls
(I'm sure she has her sister's backs first). Like any pop princess on the up, as on
Money
, it all boils down to world domination: '
those with the dollar are those with the power
' is her sarcastic indictment of capitalism and thank you fo asking.
The words are sentimental wishful-thinking, but
Graduation (Friends Forever)
is the opposite of how I feel about my own graduation where I don't actually want to be friends forever with any of them, and luckily got my wish. Still, this is her prefab
Never Ever
style 'mega hit'. It sticks to you like a sanitary towel, but it's up to you whether or not you want to use it.
Vitamin C gives her full dosage of pop nutrition on Japanese bonus track
The Only One
, which was the subject of one of
Diva Incarnate
's first posts. One of my favourites, it's simplicity never wears off - think Holly V's
Whoop
or a less polished
It's Your Duty
by Lene Nystrom.
Even if her sophomore More album would be her masterpeiece, Vitamin C the album remains her pop skyrocket. She can sing in the same shower as Debbie Harry, but her summer spritzers
Smile
,
Me Myself & I
and
About Last Night
brush their booty alongside the sentimental country girl-pop of
Graduation
and
Unhappy Anniversary
, the dead-eyed disco anxiety of
Turn Me On
and I
Got You
, and the get-the-look star of the moment is able carry the load of get-the-hook fillers such as
Do What You Got To Do
and
Not That Kind of Girl
and still make them sound like she were a genuine 19 year old. Only
Boys & Girls
has no sense of adventure.