Dana
's 2002 landmark album
Ha'chalom Ha'efshari
(the possible dream) was a tranquil affair. The misty and atmospheric settings set in place songs of a more pensive nature.
The heavenly cloud-navigating trance of
Tachlóm
(dream on) was written by
Ehud Manor who died a year later.
Obviously when Dana scoffed '
you'll never top that
' he misheard the provocative tranny and threw himself in front of a bus. The dreamy speed-ballad is an early indication of what the singer would achieve on the similarly arctic lovesong
Hakol Ze Letova
- the crashing trance waves settle, a song built on aquatic chord progressions. Dana's sincere aching chips away at iceberg hearts: a gorgeous, touching, dreamy song.
Tagid Li Mi
is a pounding dance throb with simmering beats and Dana's unmistakable phlegm-spitting delivery - the front rows at her concerts must be soaking before she even gets to a bloody chorus. Once again, Dana drifts into different dimensions beyond comparison to her peers whomever they might even be (Gina G and Dannii Minogue perhaps?).
Makat Hom (I La Dirla Da Da)
is the token dance track to utilize traditional influences. These are never my favourite on her album's but this one is sweetly-sung and Michael Flatley would shoot his load if she gave him this for one of his shows.
Superman
is an English-language, thick-and-fast sex anthem with a slight RnB influence - it's basically a trite ongoing lyrical repetition of needing a superman, but it's not dissimilar from one of her best English tracks
Glamorous
.
The manic
Ha'chalo
is yet more frantic traditional folklore beats, and one of fans of this ilk only - if this was Eurovision you would be praying for male torso's to make this worth paying attention to. Can't fault the cow for trying though.
The electronic spritz of
Sipur Katzar
is a beguiling nod to Lil' Suzy, with gorgeous melancholic verses dripping refreshingly and an illuminating chorus. It captures a sense of innosense and heart-warming nocturnal excesses. One of the highlights in fact.
Dana yelps and grimaces on the stripped-back
Yhey'e Tov
, she almost raps but gives singing one more shot. Midnight piano keys ripple moonlight eariness but this is average despite its qualifications.
Rak Lo Hayom
could be Love Inc if they wrote in Hebrew, but the dreamy formula of this album has either won or failed to impress by now and this is not a standout to insist much perseverance otherwise. The verses almost sound like the bridges on ABBA's far chirpier disco tred
If It Wasn't For The Nights
.
The second English-language track
Gotta Move On
is by far the best and one of Dana's best full stop. The vocoder makes her sound almost human for a change, the curdling vocals synge into one's conciousness and posses an undeniably dreamlike, intoxicating quality. The slithering refreain '
just a little reaction
' is uncharacteristically affectionate - I always interpret Dana tracks as songs of great angst, but sang to herself. It samples Samantha Mumba's
Body II Body
and makes David Bowie's attempt more desperate than Madonna window shopping chocolate babies in the bronx.
Below

: the classic
Tachlóm
single cover -

Dana

was too busy fleeing from terrorists trying to gun her down to be present for the photoshoot.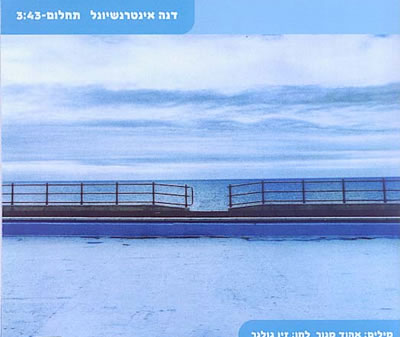 The frosted opener
Ad Hayom
is speckled with drum n' bass, driven by spying piano keys, acoustic guitar and furnaced by misty synths. Dana's whispering groans are amongst her most seductive and romantic. Like all her best material, it is tinged with sadness and aloof survival instincts.
The acoustic version of
I Won
is a surprisingly effective candlelight version of one of the singer's finest lazerbeam hi-nrg weaponry - the original is one of my personal favourites. The steady piano keys flicker as she sings carefully, and for once such a set up does not bore me to tears.
Ha'chalom Ha'efshari is mostly an ambient and sedate album with arctic and secluded atmospheres swirling around the singer's expressive emotions. The album's highlight Tachlom is in good company and the set remains one of her classiest even if the serene sheen might not be what Diva fans are expecting.