Dana International
's 6th studio album
Yoter VeYoter
(More and More) continued the singers evolution into not just a woman but a woman who releases music. Her first entirely-Hebrew album, it's not completely impenetrable for those curious simply to seek out more where
Diva
came from. Although it will hardly snag her new fans, released in 2001, there is much on offer here and Dana's asthetic remains a glittering prize for fans of ethnic Hi-NRG.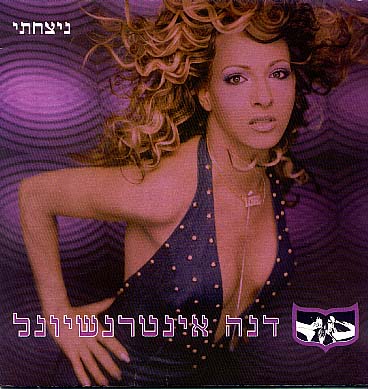 Tongue-tripping smash-opener and second single, the imprisoned danefloor siren
Nitzachti (I Won)
is the albums biggest throat-ripper using the singer's signiture sting from her intensely waspish vocals and declematory Hi-NRG motivation. With her darkly feminine aura, it's a lethal dancefloor noir dosage of highly flared-up electronic sounds. Her vocals might be as flat as her chest, but you'd never care dancing to this. Nothing less than righteous
The swanky rn'b wind up
Let Me Live
is perkier than such a stale set up might suggest. At one with the vocoder, her vocals are laced with baratone promise - the perfect vehicle for her freaky-glamour persona.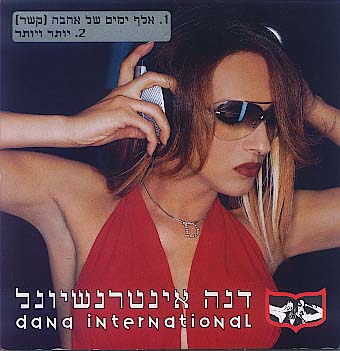 More and More
is a testing cheeseball, rnb fused with strings - having no idea what she is crowing on about, it's more than passable and gentle. Dannii would love the glossy
1000 Days of Love
(pictured above) - a simmering house chill-out, slapping on sunscreen and just enough bass to give you a semi. Chic. The stripped resources of
No Reason
is a slightly word-drunk sounding pledge for optionless funk.
The intensely sun-kissed house skimmer
You Mess All Up
is perfect Hed Kandi fodder - she ought to slip into her English tongue more and rent tricks like these out to such compliation homes. An exquisitely uninterested vocal slurs in gogrgeous fusion with the lush disco strings, slushy beats and languid bass line. A static beat kicks in after 3 minutes.
The pulsating tempo of
Ata Ha-DJ Shelí (You're My DJ)
is the standout track that could appeal to her Eurovision tourists seeking an easy dance cut. Trancey and with its upright pop melody is not dissarmingly dissimilar to Dana's most recent monster hit
Love Boy
. Her cheesey embouchure more engaging, euphoric and unthinkingly plaintive than ever.
Pinching her beats from the Spice Girls'
Holler
,
He Makes Me Feel Good
would have been a killer Forever track. Beyond the world-beat disco, the chorus is subtle and yum. A yearning guitar line (3:40) is to die for.
The enigmaticand and evocative lead single
A Song
is an exotic juxtaposition of acoustic guitar and glinting electronica not dissimilar to Madonna's Music album only it is something Dana has always done anyway, perfuming her unique vocal presence.
On The Road To Freedom
is a teetering dance cut, throbbing with mystery and determined impulse to cater to her international fans. With thwarted guitars that casually promise Kylie's
Shocked
, this is far too slow to top the older Minoguwe but as ever Dana engages with pensive moods that are all her own perfection. Her soukus demolition doesn't errupt but there's definately a panic.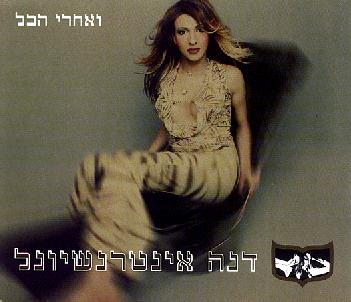 Another snaky, nimble and spaced out rnb scattering,
Turning Pink
has low budget traces of delicate sythns and a pleasant ennui. Sadly not a Cher cover,
After All
(pictured above) is a stunning glistening ballad that could be ABBA getting their folk on. Moving on
a lazy river of sound, it seduces you from the outset.
The solid
Until The End of Time
grooves with the album's classiest sample. Thriving on
a sleazy sequencer, slapping bass, tanssexual flamboyance and a goth-disgust that demands authority, Dana triggers sensations there could never be any translation for.
Sometimes more of a mood piece than a collection of commercial hooks, More & More peaks on her trademark unflinching Hi-NRG as well as the de-layering languid strolls through Hebrew rnb, of which syntheisize Middle Eastern musical strains into her audio-glamour that's as one of a kind as her original nose. For outsiders, this might not convert, but it's fragile moments of naked experience are gripping ripples not to be sneered at. Always a diva, Dana invests in emotions that are luminous, graceful and always glamorous.