Like a thick neverending fountain of slush, the deluge of hits from
Shania Twain
's cross-over opus Come On Over hardly fazed the Canadian country cougar if it's follow-up
Up!
was anything to go by. Pumped up and loaded, each song ejaculated all over you whether you had prepared yourself for it or not. Needless to say pretty much all the wrong singles were chosen, she still hasn't followed it up yet and her collaborator husband went and cheated on her. Such is the albums signposted intent to appeal to a certain kind of woman, it might even pass for a concept album dedicated to persons who feel inferior to how good Shania looks. Indeed, her diaristic lyrics sound like reading the calorie content of a low fat microwave meal, an infomercial for fitness equipment or else just some pseudo journalism rant from
Take A Break
magazine encouraging women to '
just do what you can fit into your day
' to get rid of bingo wings. The album has zero fat, showing off its stamina and athletic concentration for a super-catchy lyric for all body types (fat people buy music too and Shania needs their hunger).
Opener
Up!
is upbeat Shania, her theme tune and presumably what she looks for in a good bra.
First single
Gonna Getcha Good!
kept her comic book speach-bubble lyrics at bay, and reved up a surreal engine petroled by her gear-shifting hooks, slinky delivery and Mutt Lange's unmistakably glossy production reminiscent of Roxette's flexing on Joyride. A seamless stream of guitar dredging and Shania's bad ass nose-twitching rock attitude. '
You're a fine peice of real estate and I'm gonna get me some man
' is the album's most memorable lyric.
Equally dumbstruck,
She's Not Just A Pretty Face
is one of those pleasant non must-hear tracks that slot into any 18 track album. Chosen as a single, which kind of contradicts the message of the song.
You can take the racist out of Canada, but ... well, they are still racist and Shania can't resist namechecking her cleaner
Juanita
who is actually called Margarita on her transparant attempt to make an album you can clean at least 5 toilets to: '
go with the flow
' takes things just too far.
Forever & For Always
is another emotionally fabricated ballad that Shania wisely released as a single with a creepy homage to the film
Cacoon
in the accompanying video.
Above

:

Ain't No Particular Way

was hastily recorded when

Shania

lost her nerve trying to cover

Ain't No Love, Ain't No Use

originally by

Sub Sub Ft. Melanie Williams

.

It Only Hurts When I'm Breathing
reassures her basketball lover to keep going even if she's mot alive by the time he fits it all in. What I love about Shania ballads such as this is that she pulls them off without ever approaching misery or neurosis, it's just good fun and I always sing this to myself when having interracial sex which is basically reverse-child birth when you think about it.
Nah!
is another emotionally exposing anthem about whatever magazine Shan was flicking through that day whilst finishing her quick 200 minute treadmill run.
Another standout, the shyly stated
(Wanna Get To Know You) That Good!
is a fluttering mid-tempo ballad.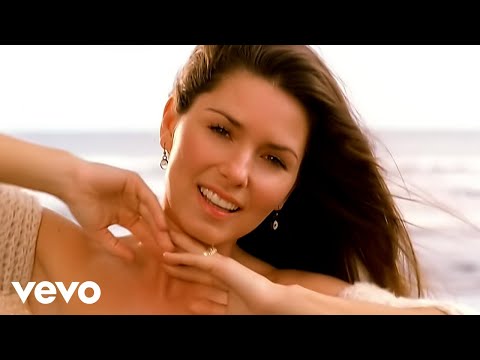 C'est La Vie
once again gives Desree competition for lyrical sophistication ('
it must be Monday / what a dumb day
').
I'm Jealous
is a sultry threat to deviate from her usual tools and sing something a bit more ruthless, but this is a chugging guiar ballad with moon-gazing yelps and we're back on the set of the
You're Still The One
video again.
The baked plastic
Ka-Ching!
is Shania doing her best to do what
Androgyny
by Garbage tried-and-failed or
The Itch
by Vitamin C succeeded with. It joins the former unfortunately, but she did look a million dollars in the video, which is the point of a Shania single anyways.
Freely deploying her freshly mastered ability to cram in the kitchen sink, my certain favourite is the off-the-rails swagger of the big pop blast from
Thank You Baby!
where she flexes her rock muscles. Shania is grateful to put a stop to dating, but rather than sound ecstatic, the atmosphere is one of licking your wounds. She grimaces '
thank you baby for making someday come so soon / for loving me the way you do
'. Misbegotten gushing aside, the production avalanche swallows it all up just as ridiculously.
So judging by the seathing chorus, Shania is sweating after a really hot curry:
Waiter! Bring Me Water!
is one of the album's growers with the most mileage 8 years after its release.
The psychological complexities of
That Don't Impress Me Much
have got even more twisted on
What A Way To Wanna Be!,
a paranoid stomper wherein Shania's body issues get out of control. When she sings '
don't be so obsessed, this is not some contest
' she conveys genuine exhaustion as opposed to just enacting it.
I'll use this simile 'till the day I and Shania die in a suicide pact against non-slogan pop,
I Ain't Going Down
is limper than Jay-Z watching Beyonce take off her leotard with just as much of a stench.
Unequivocal highlight
I'm Not In The Mood To Say No
!
is a worthy re-write of Man I Feel Like A Woman, with its frog-burping guitar barfing. And lyrics such as '
jump right in and jam it
' will make you belch whether you want to or not. There's even moments of
Don't Be Stupid
choreographed in - Twain isn't about to let anything sag, be it her baps or her endorphin kick from her '
yes means yes
' dating technique.
The somewhat less than amazing
In My Car (I'll Be The Driver)
is a straight-forward commercial attempt, recycling her pop-pump formula but her filler is still far tastier than say a Taylor Swift first single. She's far too old for this dumb shit.
Album closer
When You Kiss Me
saves one of her best for last. She avoids the cowpat gloom of her contemporaries. Sentimental masterpieces such as
From This Moment
are hard to beat, but where there is failure of the imagination this is at least a sincere effort to have a ballad or two to fall back on if the pomp plumps plummet.
You don't encounter purity on this record, it's all gloss, abs, sensible exercise and a healthy shake on the dancefloor for supper - her sheer motivation to absorb these gigantic catchphrase-coining chart-cloggers into her projected persona is a strange talent to have. The humungous songs sound like merchandise more than anything else, largely investigating diet scams or emphasizing Twain's perky side whilst demonstrating a verve uniquely impressive and consistent. Intensely fun and pleasant however much you want to hate yourself for falling for such fame-game schlock where she's only smart enough to be in control of her boobs and bingo wings simply because she's got so much money and stuff. Only on
What A Way To Wanna Be
does she come dangerously close to feeling something, but when the hooks are so god damned exhalting, '
it's so synthetic, I just don't get it
' - just so long as 45 million people buy it presumably is all that matters. Or maybe she just feels guilty at how most people in this world actually look like.