119. Wishing I Was There - Natalie Imbruglia (UK #19, Aus #24, Ger #68)

With this her 3rd of 4 top 20s from the same album, she wishes it were 1998 again.

120. I Can't Help Myself – Lucid (UK #7)

121. No Tendo Dinero - Lose Umbrellos (UK #33, US #42, Ita #4)

123. You're Still The One - Shania Twain (UK #10, US #2, Aus #1)

I don't think we quite knew what Shania had up her sleave when this was doing the rounds at the top of the charts for months - her comedy drag pop was utterly bombastic, whilst this was a genuine entry to the genre of 'female country cross-over ballad'.

124. This Is Hardcore – Pulp (UK #12, Fin #16, Fra #98)

125. A Little Soul – Pulp (UK #22)

I'll have a little bum action with the gay in the cover more like.

126. La Primavera - Sash! (UK #3, Ire #5, Ger #13)
Slagged off by slag-bag fag-hag 'look what she's got in her bag' slag Martine McCutcheon on Live & Kicking, I happened to love the pounding beats with no rhythm - you got that gurrl?
127. Cowboy Style – Kylie (Aus #39)

With a melody thinner than her septum, this was a low-key delight from the 'uuuuuugely overrated Impossible Princess album. I state that with kindness as there are some dreamy moments, but on the whole her fans collectively wank all over it and unless this is signposted someone is going to fall on their arse and get hurt, and how many times must Dannii fall only to pick herself back up again? Plus everyone knows Kylie prefers it cowgirl anyway.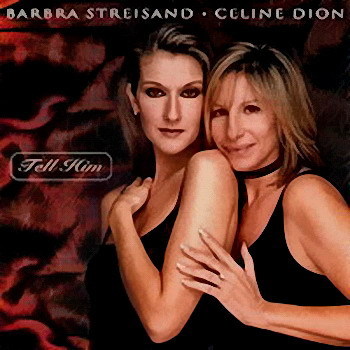 128. Tell Him - Celine & Babs (scrap this - this was released in 1997)

In which Babs urged Celine to tell Rene he needed to lose weight and get that 3rd facelift. Uncomforatably compelling - a pivotal entry to the love ballad genre.

129. Sunday - Sonic Youth (UK #72)

Personally, Culkin was slightly exploited in the video - it was basically showcasing him being grown up as a freak show (he was cute in Party Monster though).

130. Top of The World – Brandy (UK #2, Ire #18, NZ #11)

Featuing Mase – you just would, wouldn't you?
131. Life Ain't Easy – Cleopatra (UK #4)

These girls recently resurfaced on UK reality TV and were looking fabulous, but this was their non-self-referencing peak sadly.
132. I Want You Back – Cleopatra (UK #4)

The girls had second thoughts about Madonna's adoption offer after all.

133. Romeo & Juliet - S.O.A.P
134. Ladadi Ladida - S.O.A.P (Aus #15, Fra #16, NZ #8)

135. Body Movin' (Fatboy Slim Mix) - Beastie Boys (UK #15, NZ #20, Net #82)

Adam Horovitz. Adam Horovitz. Adam Horovitz. Adam Horovitz. Adam Horovitz. Adam Horovitz. Adam Horovitz. Adam Horovitz. Adam Horovitz. Adam Horovitz. Adam Horovitz. Adam Horovitz. Adam Horovitz. Adam Horovitz. Adam Horovitz. I've just cum.

136. Doo Wop (That Thing) - Lauryn Hill (UK #3, US #1, Fra #23)

The black Cheryl Cole struck gold with the year's most obvious critically acclaimed song - reading glowing reviews from white non-black music critics turned Loz-bags into a recluse with mental health issues, bless.

137. 2nd Floor - The Creatures (UK #119)

Siouxsie ranting about parque floors was her finest dancefloor song since the Jr Vasquez nailed the Fear (of The Unknown) single edit back in 1992.
138. Polyester Bride - Liz Phair
The obvious standout from the Whitechocholatespaceegg album of which was one of my most listened to albums in 1999, and Liz looked gorgeous in this video.
139. Johnny Feelgood - Liz Phair
140. The Flipside – Moloko (UK #53)

141. Boy You Knock Me Out - Tatyani Ali (UK #3, Fra #32, NZ #12)

Chris Brown might have got the wrong end of the stick when Rihanna got this stuck in her beautiful but bruised head one afternoon.

142. I Wanna Be Your Lady - Hinda Hicks (UK#14)
Hinda's snap decision for a sex change failed to crack the top ten but is a minor classic in the 'failed female Indian-flavoured soul-pop' 'niche'.

143. Sylvie - Saint Etienne (UK #12)

More fervent than He's On The Phone, with a spying narrative: 'she's not a pretty person'.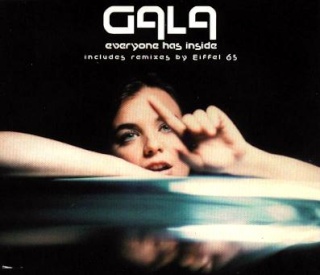 144. Everyone Has Inside '98 - Gala (the singer's first 'fan release')

The Italian's clubcentric debut single was a native number 1 in 1996: lots of lesbian groaning and campy 'do you know who I am' outbursts directed towards a fictional club bouncer who says she isn't on the list - 'I'm a friend of Ellen's' she yells.

145. The Bad Photographer - Saint Etienne (UK #27)

146. Only When I Lose Myself - Depeche Mode (Ger #2, Swe #4, Ita #3, UK #17)

147. The Dope Show - Marilyn Manson (UK #12, US #122, Ger #3)

148. Home On Christmas Day - Cyndi Lauper
An original festive tune, it was a corker – folksy and playful, Cyndi feels 'a little queer' and who can blame her? Taken from the sarcastically-titled Have A Nice Life album as her contract with Sony drew to a close.
149. Get What You Give - New Radicals (UK #5, US #36)

150. Troplicalia – Beck (UK #39, NZ #49, Can #66)

151. My One True friend - Bette Midler (UK #58)

152. Magic Touch – Corona
Thumping eurodance that will give you a black eye.
153. My All – Mariah (UK #4, US #1, Fra #1)

I wouldn't wipe my arse with this were it not for the legendary, career-defining Morales dance remix.
154. Truly, Madly Deeply - Savage Garden (fuck me - this song was 1997)

Cry-wank balladry perfection, and who didn't want bummed by both of them let's face it. At. The. Time.

155. I Want You - Savage Garden (and again - although it was re-released in 1998 UK #16)

Ripping off Roxette - the Swede's had no alternative but to retaliate with 2001's Centre of The Heart, which beat them at their own game of which was theirs in the first place.
156. Are You That Somebody - Aaliyah (UK#11, US#16)
157. Freak On A Leash – Korn (UK #24, Ger #58, Aus #22)

Yes, I know!
158. She's Gone - Mathew Marsden ft. Destiny's Child (UK #23)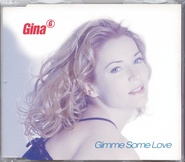 159. Gina G - Gimme Some Love (UK #25, US #46, Isr #142)
The 'Eurobeat' single edit subtly transformed a clunky album track into a usurping top 30 classic - the video was so good Girls Aloud ripped her off for the Something Kinda Ooooh promo and almost made the concept look expensive.
160. Gimme Love - Alexia (UK #17, Isr #16, Swe #36)
Given a thumping disco delivery for the UK radio edit, I much prefer the original-non-reggae version that the Europeans got.

161. Suddenly - Gala (Spa #1, Ita#4, Isr #2)
162. Be Mine - Wild Orchid (US #103)

Meth-head Fergie needed to fund her habit somehow.

163. Don't Break My Heart - La Toya Jackson

The song has the funniest wikipedia page ever.
164. Ghetto Superstar - Pras, Bastard & Mya (UK #2, US #15, Ger #1)

165. Make It Hot – Nicole (UK #22, US #5)

One of Missy Elliot's many jail-bait protiges.
167. If You Could Read My Mind - Amber, Ultra Nate & Jocelyn Enriquez (UK #23, US #52, Can #7)

Triple-penetration euro-cheese.

168. Mysterious Times - Sash! featuring Tina Cousins (UK #2, Swe #17, Aus #62)

Maudlin melodrama from a pensive and penniless Tina – needless to say it is her orifice-defining anthem even to this day when she hasn't had any since. The hey-day of Tina Cousins!

169. No Fool No More - En Vogue (UK #46, US #57, Hong Kong #25)

As performed on Oprah who told them not to break (up).

170. Party Hard – Pulp (UK #29)

171. Queen of Hearts – Agnetha (Swe #53)

172. Relax - Deetah (UK #11)

173. Silly Ho – TLC (US #59)

174. If – Bluetones (UK #13)

175. When The Lights Go Out - 5ive (UK #4, US #10, Aus #2)

Say no more when I would do, oh, 5ive out of 5ive of them, or 3 of them with the lights on.
176. A Rose Is Still A Rose - Aretha Franklin (UK #22, US #26)

177. Nobody's Supposed To Be Here - Deborah Cox (UK #55, US #2, Can #8)

Like Mary Kiani, but more black-sounding according to the Scots dance legend from Glasgow's West End - the only thing she's been getting searched is her hand bag by the security guards at House of Fraser.
179. Closing Time – Semisonic (UK #25, US #13)

Like an English teacher, you just fancy them because they are there. So don't feel flattered, guys, if I got you to kiss me at my school prom, or if I 'propositioned' you for sex, don't think I meant it... Not that that happened to me of course. Where was I?

180. Hunter – Bjork (UK #43, Ire #13, Fra #55)

Moody atmospheric and gloomy march towards Bjork finding a melody. The video has aged badly.
181. Boys Better - Dandy Warhols (UK #36)

182. Everybody Here Wants You - Jeff Buckley (Aus #35)

183. No Regrets - Robbie Williams (UK #4, Ita #12, Ger #60)

Pet Shop Boys penned aggression-ballad with a building melody suggesting otherwise.

184. Cafe del Mar - Energy 52 (UK #12)

The original dance track, suitcase-carrying music video.
185. Honey – Moby (UK #33, Ger #77)

Before I knew Moby was a blad white male vegan, I thought he was a black tranny - how disappointing, but at least we got Disco Lies in the end.

186. Outside - George Michael (UK #2, Ire #7, Ger #30)

I would with the two muscle mary's having a right laugh in the changing room footage.

187. Dreams - The Corrs (UK #6, Ire #6)

Jade Ewan watch out, gurrl.
188. Better Off Alone - Alice Deejay (UK #2, Aus #4, US #27)

Sparse misanthropic europop with dripping synths and a faceless vocal to boot.

189. Found A Cure Ultra Nate (UK #6)

Ultra tried to out-do La Toya Jackson with a false-alarm AIDS anthem, which Toy-Toy has never forgiven her for.
190. Sometumes - Les Rythmes Digitales
Groaning 80s pop Phil Oakey would be fairly happy with.

191. London Rain - Heather Nova
Sweetly-perfumed bliss.

192. Alarm Call – Bjork (UK #33, Ire #36)

193. Beep Me 911 - Missy Elliot (UK #14)

194. A pessimist Is Never Disappointed – Theaudience (UK #27)

Pre-crows-feet Bextor changes music forever.
195. Human Beings – Seal (UK #50, Ger #96)

196. Life - Des'ree (UK #8, Aus #8, Spa #1)

If only Osama Bin Laden could hear this - all the answers are in this song, nothing is left out. Literally. But just wait 'till Cheryl Cole finds out a beautiful black woman has better dimples than she does.
197. One – Filter
198. All 'Bout The Money – Meja (UK#12)

199. Coming Up Roses – Curve (UK #51)

Creepy and gorgeous.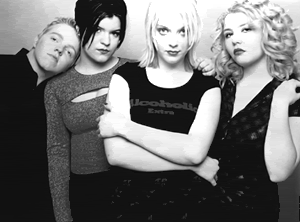 200. I Would Fix You - Kenickie (UK#36)
I love how the girls all looked like fat hairdressers who used to babysit you when you were younger.
201. Love Like This - Faith Evans (UK #24, US #7)

The only solo single of hers worth bothering about, sampling Chic's trademark Chic Cheer. She thinks she's rnb royalty - she 'gets no love' from me, etc.

202. Hey You - Les Rythmes Digitales
203. Cant Get Enough – Soulsearcher (UK #8)

Rhythm of A Dancer singer returned Shena stylee.
204. Flaming June – BT
205. Heart & Shoulder - Heather Nova
206. I Honestly Love You - Olivia Newton John (US #67, Aus #88)

207. From The Rush Hour With Love – Republica (UK #20)

208. This Kiss - Faith Hill (UK #13, US #7, Aus #4)

Country-bitch who'll cut your balls off if you touch her husbands'.
209. There's Your Trouble - Dixie Chicks (UK #26, US #36)

210. The Salt In My Tears - Dolly Parton
211. Remember – BT
212. It's So Hard – Anouk (Net #23, Bel #43)

213. It's All ABout Me – Mya (US #6, NZ #13, Can #39)

214. Angel St. - M People (UK #8)

Promising verses and an only-4-songs-to-go-now style chorus.

215. Cigarettes Will Kill You - Ben Lee (Aus #46)

With his jaw-dropping notable appearance, I just could not get enough.
216. New Kind of Medicine - Ultra Nate (UK #14)

Ultra's desperation to humiliate La Toya's rational hunger for an AIDS cure se-cured the singer another top 20 epidemic in '98.
217. Sad Cunt - The Creatures (did not chart)

Sardonic Siouxsie growtch-fest.

218. Girls Night Out - Alda (UK #20)
Defensive minge-muncher Mel C thought she would be funny by acting horrified at this when she reviewed it on Live & Kicking – 'I suppose I am responsible for this, like' she barked whilst licking her fingers, only I think what she is responsible mostly was the bargain bins at Woolworths before they closed down due to stampeding lesbians who wrecked the premises beyond all repair in their craving for cunt music. With her dreadlocks like octopus tenticles, Alda scorched herself a blazing top twenty smash at #20 where it remained for 1 whole week.