Hazardus
is the first time Vanessa Amorosi has exposed herself to me: the 2000 single
Absolutely Everybody
didn't float my boat, so recovering whatever wreckage was left that stood for her career never really appealed. Here she embraces the 2009 brand of power pop equally-if-not-more open-armed as her peers who have all been at it ever since Kelly Clarkson's
Since U Been Gone
and it's an even tighter fit than her favourite denims
.
Originally a product of the early noughties bubblegum pop scene, Nessie holds her self-loathing at ransom whilst crazily jeering '
a-a-a-a-am!
' before her hair-ripping-out verses. The hurling comeback statement
This Is Who I Am
bitchslaps the singer back into my consciousness, proving to be one of the years best 3 minute experiences. The grimacing reverberation adds fire to such potentially akward lessons-learnt lyrics such as '
I spent years really hating me
' - Amorosi's incredulity shudders as she screams in elation, and such rejuvinated projection is a complete winner here.
The initially hushed chugging bassline triggers an immense momentum that never stops gaining, unlike the broad herself who looks about half a thrown up pizza off her target weight in the video (think of a glorified titles sequence to Kathy Griffith's must-see reality show
Life On The D-List
). Fortunately, or unfortunately, Amorosi at once establishes the experimental depth found throughout - she cranks it up and keeps it there.
Renovating the well worn formula, the turgidly intoxicating
Mr Mysterious
is a cringey broad-shouldered brazen bar girl taking over kareoke night. Her deep steely vocal is crisp and her subdued ballsy howl is flaunted on the sneering chorus. Drenched within a groovey rhythm complete with barrel-rolling male backing vocals, her lyrical bent continues to pursue getting the best of herself in new settings. Musically she is actually surpassing her peers for style, but as the rap proves, lyrically she is Heather Mills - uptight, game, and endearingly clumsy if pushed out of her comfort zone.
Equally disabled,
Holiday
fizzes out into a flamenco rnb-tinged nosedive, with a quick-stepping chorus and lyrics about necking tequila and going on a holiday - no way, strewth gurrl!
The fluttering pace of the title track
Hazardus
makes it a corker - think Shelby Lynne filtered into a shimmering Jason Nevins remix. The sharply pumped-up production techniques are killer throughout, as it is here on spitfire or unfolding inner beauty perfuming the second-guessing verses with shuffling synths.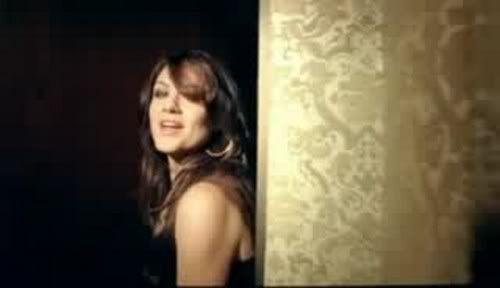 She promises good foreplay to some lucky thick-ankled P.E coach on the sizzling pout of (Get You)
Off On My Kiss
, and I swear I thought she was singing
'suck my tits
' at one point - the boys have got to crack a fat somehow I guess. This could be a decent Dannii Minogue track, seriously!
The jagged-razor minge-shaving ballad
Show Me How To Love
shows her recognition that being a bludger and just lying there is just not going to cut it even for lesbians.
The stargazing
Aliens & UFOs
is beyond amazing, with the kind of voltage that made the more blistering moments of Roxette's Room Service album so reviving. Her rootsy vocal captures the vast production size of the chorus of which the soft verses slide right in and out of.
The strumming ballad
Summer Nights
is a bit cactus - whatever the smell she sings she loves, I just hope she is not still harping on about a big fish.
She is at it again, serving her meat pie on the slinky piss up
Touch Me
, which almost rivals Gala's skin-shedding electronic lesbian genital-exploration anthem
She Really Wants To Try It,
otherwise she will just '
do it on my own
'. Whether she is cracking onto someone's crack I have no idea, it is an absolute high point, and she commendably resists any vocal dramatics of purging her guts out. The suppressed funk production blast is divine, with swooning synths tying in knots with the wandering bassline
Embracing her country capabilities, the languidly superior bar rocker
Baby's On Ice
is a bit Faith Hill but drunker and is the second single. The rip snorter production pervasive to the album holds it together with an epic chugging chorus. Song peak: the growling bassline warming up 2:33.
Some dill gets it bad on the murky chest-beating
Sleep With That
, and '
she's not so sweet, looks kinda cheap
' is my favourite lyric of the whole album. The sleek verses and jealous-but-sarcastic lyrics bruise in all the right places.
Another soaring ballad with a heartfelt splintering vocal, the gospel-guerilla
Higher Ground
is no
It Won't Work Out
that's for sure. Blossoming
Halleluja
-style guitars fragrance proceedings, and it will sound great live - the best of the slow jams, her vocal combines well with the theatrical arrangement.
Even though she is proving to be a bit of a figjam, we are back on track with the thudding stomper
Blow Me Away
, which does exactly what it says on the strap-on with chandelier-crashing guitars punching through the speakers. Lubricated production flourishes, including explosive firework-guitars, add the pivotal gloss that is making the 80% of the album so exceptional to listen to. It's like Shania Twain, but with an album full of
Whens
!
She gets her fair suck of the sav of ballads, but comes a guster on the line-dancing encore
Snitch
, which would have been better if it were a full-on spat out vocal duty called
Snatch
. The 3 bodgy ballads might not be my bowl of rice, but overall the bogstandard approach is at least refreshing and her cleaving vocal talent can at least acknowledge the delicate restraint needed for overweight lesbians to catch their breath back. The stompers are busier than a cat burying shit, which helps disguise these turds.
Going straight in for the kill, Hazardus works best on the dramatic and explosive moments, which thankfully balance out most of it. Whether you are familiar with her flustered signiture anthem
Absolutely Everybody
or not, with such standout performances, Hazardus is a more than enjoyable launching point well in sync with today's roster of seppo's Clarkson, Pink and Perry's. The exquisite work on the best songs - unified, stylishly mainstream and unpretentious - produces gobsmacking pop nuggets even if she might not quite become the worldwide arena-filler they ought to qualify her as.
All in all, I reckon ol' hairy legs done good!