51. When - Shania Twain (UK #18, Can #14)

Her talky parts are often too akin to a line-dancing instructor, but this is her most straight-up, gimmick-free song and I would never have guessed at the comedy to come.
52. My Favourite Game - The Cardigans (UK #7, Swe #3, Nor #4)

Nina's beauty was a perfect match for the aloof adrenaline of a song I don't think they have even tried to top since.
53. Move Mania - Sash! featuring Shannon (UK #8, Ire #15, Den #13)

Formulaic and dated, yet dragging jaded disco diva Shannon back from the dead was inspired just to hear her yell out insipid eurodance sentiments.
54. Mas Que Nada – Echobeatz (UK #10)

I used to stick this on whilst imagining Ronaldo and Roberto Carlos were sticking me on - no apologies for my tastes in men at this stage.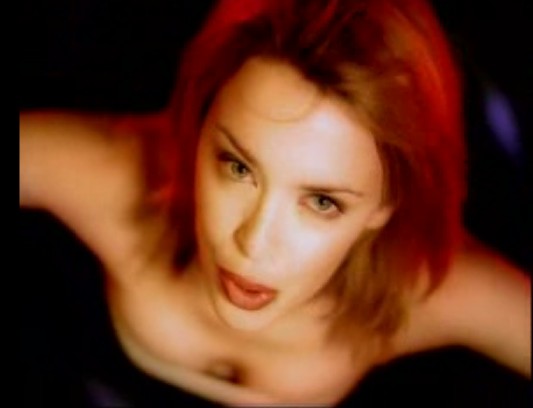 55. Breathe – Kylie (UK #14, Aus #23, Russia #3)

Like something off of Dannii's seminal Girl album, yes it is that good. I still remember laughing when Kylie announced it was 'the first dance single off the album' to Zoe Ball on Live & Kicking, as if anything else would have got released in the UK.

56. Sunday Morning - No Doubt (UK #50, Aus #21, Swe #55)
'You came in with the breaze' might have been the only gust of melody here, but it was worth waiting for, not that Gwen approves of such activity.
57. Walking On Music – Corona
Olga mouthing to Sandy's gargling opening vocals is an almost equally magnetic song introduction as the tanoid announcement of Rhythm of The Night - an emancipating return.

58. Everytime I Fall - Gina G (UK #52, Lebanon #16, Chile #12)
The Todd Terry radio and Metro remixes polished this up more than nicely – the former delivers the tempo lacking on the soggy album fiasco and the latter incorporates a Gala-esque piano middle-8 complete with aeroplance sound jetting overhead. And so it was over.

59. Special – Garbage (UK #15, US #52, Aus #54)

Mimicking Chrissie Hynde, mincing a Pretenders refrain and yet Shirley still managed to embody the persona of a surly alien princess as she always does. Garbage at the top of their game – from an album that just doesn't quit.
60. Debbie - B-52s (US Modern Rock #35)

61. My Oh My – Aqua (UK #6, Swe #4, Fra #4)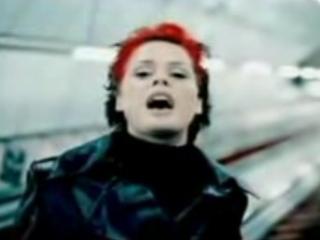 62. Turn Back Time - Aqua (UK#1, Swe #4, NZ #2)
63. I Wanna Love You - Solid HarmoniE (UK #20, Net #25, Swe #39)

64. Ain't That Just The Way - Lutricia Mcneal (UK #6, Swe #1, Ger #5)

There wasn't no one who would spit their weave out their mouth whilst singing live the way Trish could.
65. Someone Loves You Honey - Lutricia Mcneal (UK #9, Aut #13, Nor #17)

Trish rubs it in to homeless people as she pens a song to make up for the fact she spat in one of their faces after she was innocently trying to get rid of a hair extension stuck to her lip gloss.

66. C'est La Vie - B*Witches (UK #1, Ire #1, US #9)

More bounce than a hooker booked for a full basketball team.

67. Girlfriend - Billie Piper (UK #1, Ire #9, NZ #2)

68. She Wants You - Billie Piper (UK #3, Ire #21, NZ #4)

More than a little whiff of Who Do You Think You Are vibes, it failed to heave the album to the top of the charts and perhaps spelled it out that Billie was never going to be much of a hype despite being rather decent.
69. Tell Me - Billie Myers (UK #28)

Intially I was addicted to Myers' almost pervy gender-bending agony here, but years later it has aged quicker than a whore wearing last years make-up colours with no time to wash between clients, which the video conveys perfectly.
70. To Love Once Again - Solid HarmoniE (UK #55)

71. Push It – Garbage (UK #9, US #52, Aus #31)

72. You Don't Care About Us – Placebo (UK #5)

Hopelessness and vitriolic - teenage angst personified.

73. Every You, Every Me – Placebo (UK #11, Aus #46, Ger #99)

74. Sinner - Neil Finn (UK #39, Aus #40)

75. Cruel Summer - Ace of Base (UK #8, US #10, Can #5)

Crisp and sharp, yet the production never truly overcomes the obstacle of making one forget it's a cover. And poor Linn faded herself into the background in hilariously un-subtle fashion – oh look there's a blurry shot of the blonde one who doesn't want us to look at her anymore, oh look there she is again her running behind a pillar, etc.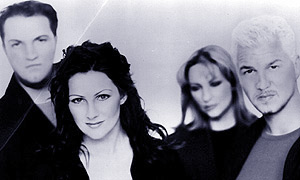 76. Always Have, Always Will - Ace of Base (UK #12, Aut #29, Ger #47)

77. If You Buy This Record Your Life Will Be Better - The Tamperer (UK #3)

Sampling her old friend and employer Madonna, Maya now cleans for Nikki French so is in no shortage of skidmarks to sample these days.
78. Last Thing On My Mind – Steps (UK#6, Aus #5, Bel #1)

Now this is how to cover Bananarama!
79. Cleopatra's Theme – Cleopatra (UK #3, US #26)

Madonna's first attempt to adopt black people backfired when these girls demanded a US record deal and were soon sent packing when their Mama was having none of it. You got that, gurrl?
80. Sweetest Thing - U2 (UK #3, Ire #1, US #63)

81. Go Deep – Janet (UK #13, Fra #22, Ger #72)

Say no more, gurrl.
82. The First Night – Monica (UK#6, US#1, Net #22)

Sampling Diana Ross, Monica emerged from the chart-topping Boy Is Mine duet with the most impressive song - sultry and panting for more, it topped the US charts.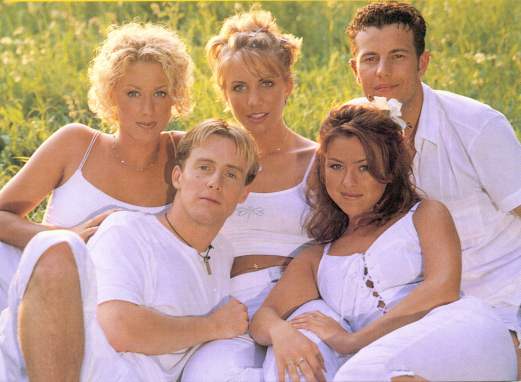 83. One For Sorrow – Steps (UK #2, US #38, Bel #1)

84. There Goes The Neighbourhood - Sheryl Crow (UK #19, Can #4)

The hits soon dried up for old mole-face, but this was rather fine if a little wonky as it het up.
85. Imortality – Celine (UK #5, Fra #15, Can #10)

Hard to tell who sounds more feminine, Celine made the boys cry in the studio – her endless sugar daddy jokes brought Babs to tears as well.
86. Teardrop - Massive Attack (UK #10, US #110, Aus #16)

87. Pacemaker - Billie Ray Martin

A loungey and languid production, with Billie aiming low and deep with her second-to-none vocals: to think she once claimed she couldn't care less about dance music (well, remixes actually, but you get the drift).

88. Alexia - The Music I Like (UK #34, Ira #22)

89. Everytime – Janet (UK #46, US #125, Fra #95)

90. Looking For Love - Karen Ramirez (UK#8, Ire#23)
Fluffy drum n' bass ballad co-written by none other than Tracy Thorn.

91. If You Tolerate This Then Your Children Will Be Next - Manic Street Preachers (UK #1, Ire #2, Nor #19)

Whenever he is thin I fall in love with James-Dean Bradfield - a seriously disappointing album, this became their first and most recent number 1.

92. You Stole The Sun From My Heart - Manic Street Preachers (UK #5, Ire #20, Net #94)

93. To You I Belong - B*Witched (UK #1, Ire #4, NZ #5)

Sneaking in a number 1 as they backed down from releasing the same week as the Spicies, the celtic influences were the selling point, but the song was as lovely as the potatoe soup they were raised on – seriously, a bowl a week between the four of them, just look at how healthy they all looked!
94. Goodbye - Spice Girls (UK #1, US #11, Ire #1)

Mocking Geri with a number 1 single, Posh really put the knife in with her carefully worded middle-8.
95. Oye - Gloria Estefan (UK #33, Spa #1, Fra #39)

Gloria seriously needs to re-connect to her casual-music-fans fans with intoxicating salsa stir-fries like this: come, baby, do that conga gurrl!

96. Where Are You Now – Imaani (UK #15, Net #14, Bel #12)

A number 2 at Eurovision, I still wish we got an album from this one - I would love a comeback attempt from her.

97. All I Have To Give - Backstreey Boys (UK #2, US #5, Ger #8)

Sounds like a challenge: American cheerleaders have it so good.

98. When You Believe - Mariah & Whitney (UK #4, US #15, Swe #2)

What would a 2010 duet sound like – hilarious, that's what!
99. Crush - Jennifer Paige (UK #4, US #3, Can #1)

Paula Cole meets Paula Cole on 1998s catchiest radio hit.
100. Boom Boom - N-Tyce (UK#18)
So much excitement on the weightless chorus, it's still hard to cope knowing these girls soon called it quits - all they wanted was a double-boom.

101. Little Bit of Lovin' - Kele Le Roc (UK#8)
102. Horny - Mousse T. (UK #2)

103. Finally Found - The Honeyz - (UK#4, Aus#3)
104. Under The Bridge - All Saints (UK #1, Ire #3, Aus #5)
105. Music Sounds Better With You – Stardust (UK #2)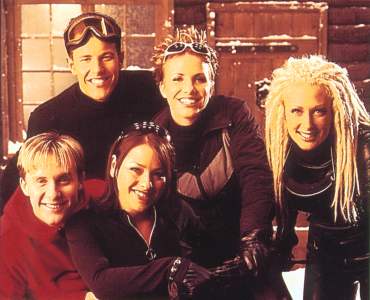 106. Heartbeat – Steps (UK #1, Ire #2, Swe #4)

107. I Get Lonely – Janet (UK #5, US #3, Aus #21)

Top-drawer anthem from Michael's 3rd favourite sister.

108. Sex On The Beach - T-Spoon (UK #2, Ire #2)

109. My Favourite Mistake - Sheryl Crow (UK #9, US #20, Can #2)

110. Smoke - Natalie Imbruglia (UK #5, Aus #42)

111. Big Mistake - Natalie Impruglia (UK #2, Aus #6, Swe #24)

Sub-Alanis whigeing that sounded really good at the time. She just looks like a lesbian doing a walk of shame in the Barcelona-filmed video.

121. Road Rage – Catatonia (UK #5, Ire #29, Aus #40)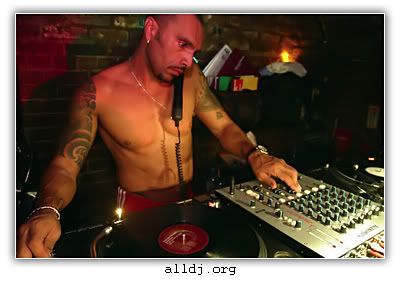 122. Needin U - David Morales (UK #8)
He can give me his number 8 anytime.

123. The Boy Is Mine - Brandy & Monica (UK #2, US #1, Fra #2, Jap #1)

Passive-aggressive eyeballing in the video aside, this was rather lackluster but dignified and at least introduced Monica to an audience wider than Dannii on a sling, even if she has lost the plot a little of late.

124. Up & Down – Vengaboys (UK #4, Ire #3, Pol #2)

125. We Like To Party – Vengaboys (UK #3, Ire #3, Pol #1)

126. Telefunkin - N-Tyce (UK#16)
Girl-groups were in short supply in 1998 - if only there were a mixed-race band with lots of attitude and colloquial phrasing to catch our mundane minge-starved imaginations.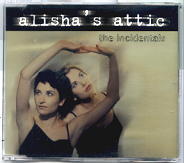 127. The Incidentals - Alisha's Attic (UK#13)