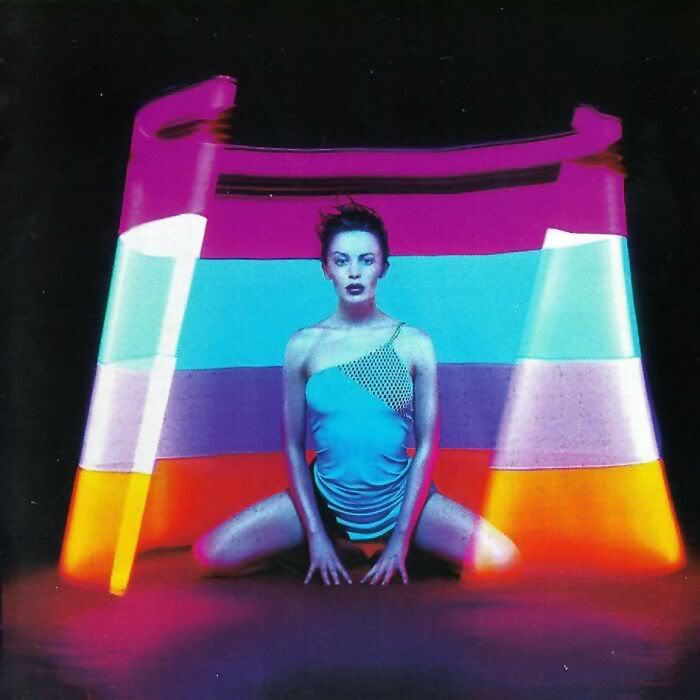 Impossible Princess
is
Kylie Minogue
's most interesting album - of course it is, after all it is possibly the only one that challenges people to like her for reasons beyond a pleasing smile and an intrusive disco beat.
At the time of it's release, the album's first single
Some Kind of Bliss
was an obsession of mine - those divine strings, guitar raunch, the white trash video and femme fatale ginger dye job, not to mention Kylie's most atypically let-go vocals of all time (she wasn't trying to sound like an underage prostitute as she has done on her albums from Fever onwards). The song slipped somewhere between motown and post-punk British indie, and the singer was dubbed 'IndieKylie' well before the 'AmazinglyShit Spice' hoolah was injected into the eyes of Smash Hits readers.
She talked up
Breathe
on BBC1's
Live & Kicking
to presenter Zoe Ball as '
the first dance single
' (I knew to laugh even back then, before the album was released for some reason), and indie hack and cheap wine voiceover granny Jo Whiley sarcastically boasted that Kylie simply '
got cooler every year
' when introducing the thorn on Dannii's side on
Top of The Pops
. Don't blame
me
either, but Kylie was on the way out despite 3 of her most vivid, fascinating and tempestuous singles to date - none of which cracked the UK's top ten.
Opener
Too Far
is clumsy and impulsive, rather like Cyndi Lauper's slicker and more Cher-ified
Higher Plane
. The celtic-country tinge of
Cowboy Style
was a mooted Australian-only release. The sinister pride of final international single
Did It Again
is so deliciously pissed off it sounds tailor made for Dannii.
The pulsating aspirations of
Limbo
don't really come off. Substandard acrobatic momentum can't disguise ill-fitting lyrics and it's a mess. The chorus is in gear, but this is disappointing considering such a concerned effort to rev itself up, which is all too palpable. Mincing itself as a vaguely embarassing polvolt of strifent degradation, it is much too serious and deliberate to be effective.
With a constant pulse of tribal drumming,
Drunk
is actually a fantastic backing track. The chorus hints towards a human being with genuine feelings of dissilusionment - a unique sensation in the Kylie catalogue. Her lyrics are impossible for a vocalist of her debt to conquer, so despite the flashes of Italo-house piano, the excitement is in short bursts that are not sustained.
The legendary Norwegian whisper siren Annie's
Bad Times
instantly reminded me of
I Don't Need Anyone
, which is like a dirty Saint Etienne collaboration with the Bluetones that never actually happened. Slight and waift-like, it's sprightly charm is at odds with everything else but it provides some necessary sense of light and of outside.
The captivating
Dreams
' oriental grandeur carries stony conviction and reaches a crazily energetic climax - a rare moment where the album genuinely flashes a sense of naked discovery usually found on a debut.
The song
Say Hey
actually hovers into place, pre-empting the dead-eyed fornication found on Anima Animus by The Creatures. Her sinewy vocals and inane '
mmmmm
' droplets are a challenge to not mention pretentiously twee, but that's a prejudice worth getting over - its milky smooth electronic riverbed could almost be Sally Shapiro. The murky ambience is far superior to what Kylie herself brings, but why should that matter?
Through The Years
simmers with a smouldering atmosphere of ennui - Kylie's voice crawls out from the shadows to encourage a shuffling beat to continue far longer than it needs to. Cocktail music.
The album is totally overrated, but it's still rather good whereby she veers from brooding and pulsating voltages that are sometimes too advanced for her lithesome vocals to sound in charge of. Her indie liberty on
Some Kind of Bliss
is worth the tripe elsewhere, remaining the album's only truly momentous track, with the other singles creeping close. A radical departure? Perhaps, but it's hardly operating at the fringes of commercial pop music. Her voice is too slight to be left to act as an exposed instrument, and yet the serene and sensual adroit balladry mission of the almost title track
Dreams
is flown in from a forgotten world, but 13 years later she would clearly rather be a lifeless forehead and up to her knees in backing dancers - that's the 'realest' Kylie we're ever going to get these days.